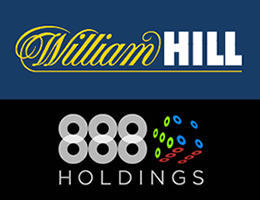 There has been some serious discussion recently about the potential for William Hill to buy out 888, although at the same time we speculated that the ownership of 888 would probably be looking for a significantly higher offer than William Hill was making or would be willing to make.
This did indeed turn out to be the case, as the two sides have now broken off this discussion, with William Hill claiming that there is a "significant difference of opinion on value with a key stakeholder". William Hill's offer was 210 pence per share, amounting to over a billion dollars, and considerably more than 888's shares were valued at the time. Current 888's owners were waiting for at least 300 pence a share.
While this probably would not have mattered as far as 888's casino business goes, there may be at least some concern of 888's poker business being taken over by another company like William Hill who have a lot of expertise in sports betting but a limited amount in the poker business, and the fear was that they might look to change what is already a very successful recipe for poker at 888, or at the very least change the dynamic of the poker room significantly, which might not find favor with players.
888 Poker has developed a very strong following over the years and in spite of the huge sports betting player base they have to work with in addition to some obviously deep pockets they have not been able to come close to 888 in terms of poker popularity so for the poker world anyway it may be best that William Hill continues to concentrate more on what they do best which does not seem to be poker.
So we don't have to worry about this, for the time being anyway, and 888's CEO Brian Mattingly assures us that all is well at 888 and they are "looking forward to the future with confidence".