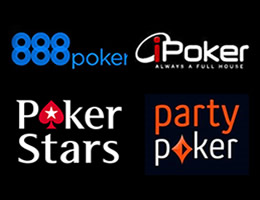 View From The Sky
Online poker traffic overall gained another percentage point this week to go along with the 2% gain we saw in the market last week. This week though the gains weren't as broad based, with 6 out of the top 10 poker sites seeing a jump in traffic compared with 9 out of 10 last week. Still though the momentum built last week continues on for now anyway.
Party Poker regained the fourth overall position that it has generally held lately, after briefly being toppled by Pokerstars.it, who fell from fourth to sixth, allowing Bodog to move back up to fifth. The rest of the top 10 remained the same.
The overall market is down 9% from the same time last year, up from the 8% that it was behind year over year last week. So in spite of the gain in traffic this means that it wasn't as significant of a gain as we saw during this week a year ago.
888 And iPoker Continue To Battle For Second Place Overall
It has been almost a year since iPoker held the number two spot in the overall traffic rankings, but they are making a surge of late which has them challenging 888 Poker for the spot that 888 took away from them last December.
Since the first of September, iPoker has seen a very impressive 11% increase in cash game traffic, and while 888 Poker's traffic increased as well over this period, iPoker is starting to catch up more lately.
888 Poker's lead is down to just 3% now, so with the way things are trending, it might not be long before iPoker gets back into second spot, and regardless, their recent increase in traffic certainly bodes well for the current state of health of their poker network.
Poker Sites Continue To Shuffle Back and Forth In Fourth to Seventh Spots
While we are seeing a closer battle between second and third place lately, there has been a fairly long ongoing battle between fifth and seventh place lately, involving Bodog, Full Tilt, and now Pokerstars.it, who have moved up lately enough to join the fray.
Now longtime fourth place site Party Poker has been brought into the battle, as these other poker sites have gained enough momentum lately to challenge for their fourth position, which was pretty stable not that long ago but is no longer.
Last week, Pokerstars.it unseated Party Poker from fourth, and while Pokerstars.it has now dropped to sixth this week and Party Poker is back in fourth, there is now not a lot separating them from these other 3 contenders, and there is usually some shuffling that has been going on pretty much each week between them.
Bodog's recent improvement has them currently sitting in fifth, but they are only 100 average players short of fourth now and poised to move up again should they continue to grow their traffic base. Once prouder Full Tilt is in the back of this little pack in seventh, but the folks there are bent on bringing up their numbers and they are fully capable of making a move as well.
U.S. News
It was a fairly tough week for U.S. regulated online poker sites in both New Jersey and Nevada. The New Jersey market lost 2% overall, with both top 2 sites Party Borgata and WSOP New Jersey losing ground, and while the third place All American Poker Network gained a bit, it wasn't near enough to make up for the losses by the other sites.
Nevada was down overall as well, by an even bigger amount, 6%, fueled mostly by a disturbing loss of 12% by market leader WSOP Nevada, which in spite of hanging on to their lead over Ultimate Poker Nevada, now sit in 43rd place overall with an average cash player volume of only 85 players.
Casinos In Atlantic City Take Another One On The Chin
The Trump Plaza closed down for good this week, making it the fourth Atlantic City casino to shut down this year, and leaving only eight casinos left standing in the city.
Business had really dropped off at Trump Plaza so this was no surprise at all. This year so far they only have generated a little over $30 million in revenue, about the same amount that the Borgata takes in every two weeks. Casinos are expensive to operate and while $30 million may seem like a decent amount it was not near enough to keep the place afloat.
There is speculation that this may not be the end of casino closures in Atlantic City, even this year. There are rumors that the Trump Taj Mahal may be on the brink of closure as well, which may happen in a couple of months. The Taj has the second largest poker room in the city so this would limit options for Atlantic City poker players even more.
Meanwhile the online market in New Jersey continues to fall well short of initial expectations, and although this has added over $70 million in revenue so far this year, gambling in New Jersey is certainly struggling overall and is only likely to get worse as more casinos are built in the region.