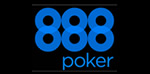 888 Poker started their operation during the very early days of online poker, known then as Pacific Poker. Pacific Poker was a fabulous site to play at right from the start, which was set up to provide a place for casino gamblers at 888 Casino to dabble in a little poker. 888 Casino by the way has been the world's most successful online casino for many years now.
So we're talking about a company who really knows what they are doing when you look at the massive success of their casino over the years, but for many years poker was just a sideline and they didn't promote it much outside their own casino.
In recent years, Pacific Poker has become re-branded as 888 Poker, and the whole operation got revamped, including updating their terrible software to what may be the best out there. The renovation wasn't just skin deep though, they now reward players very well instead of the pittance you used to get, there are more variations now including some unique and fun ones, and the traffic certainly has jumped.
888 Poker quickly rose to the second most popular online poker site in the world, where they have remained. Traffic was never an issue here as they always had plenty but it sure is great to see so many more players on there now and so many more tables running.
Even with being this popular though, they still have maintained a much more casual player base than you see at their bigger main competitor, Poker Stars. They still get quite a few players from their casino and attract a lot of other recreational players, so you don't see the fierce competition that you see at Stars. You can beat these regulars/professionals at PokerStars but the reason you need to play so many tables there is that the earn rate is so low due to the competition being so keen, but you won't see this at 888, and you will really love that.
Now Poker Stars does have its good points as well and for instance you will see more high stakes play there, but for mid stakes players, and especially small to very small stakes players, 888 Poker is the best choice. This is especially important if you're still learning how to beat the game, you'll get the education you need here without getting kicked around like a dog.
888 Poker even has a no deposit bonus where they will give you some real money to play with even if you can't make a deposit yet. You probably won't get too far with that but grab that first and then make your deposit as soon as possible, to get a little extra on top of their regular first deposit bonus.
888 Poker has won several awards as the world's top poker site, and a lot of players agree. If you haven't tried them yet you owe it to yourself to do so.