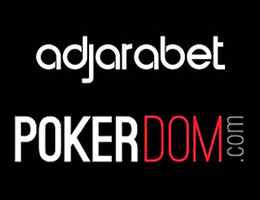 Adjarabet Settles Back In After Big Promo Ends
Adjarabet's long running Magic Hands promo, which ran from last December to this March, has finally come to an end, and as expected this has ended their run in the top 10, although they still are maintaining a spot just outside of it in eleventh place, where they have sat for the last couple of weeks.
As the promotion wound down, we already saw numbers fade off quite a bit and now that it is over they are back to fending for themselves merely on the strength of their normal offerings.
It's often the case though that big promos leave poker sites no better than they were once it is over, and at least Adjarabet can claim to have benefited from this once it was all said and done, and they certainly have been left with more traffic and more popularity than when this all began, at least at the moment anyway.
They are still 150 average players out of the top 10 though, with 850 this week and the requirement to crack the top 10 being 1000, and they may not get back up there until they put together another big promo, but this site does like to run promos so we may see that fairly soon.
PokerDom On The Move Up
PokerDom, a fairly new site which primarily targets Russia and other former Soviet countries, is starting to make an impact on the global online poker scene, moving up to 31st place this week.
This site is being marketed pretty aggressively with generous signup bonuses and promotions, and over the past couple of months have increased their traffic dramatically, on a percentage basis at least, and now boast 240 average players.
To put this into perspective, WSOP/888, the largest American based site these days, only has 200 average players, and this took an amalgamation of two sites to achieve this. While it's true that this site only draws its players from a single U.S. state, with all the hoopla that they have garnered, PokerDom is deserving of some as well.
PokerDom is currently running a best hands promotion that runs through April 6 and they expect to increase their popularity at least modestly over this time. They have only been in existence for about 5 months now though and have shown a fairly steady trend up so there is certainly some potential for more growth here as the word on them gets out even more.