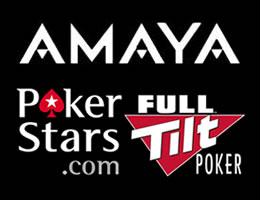 Amaya Concludes Acquisition Of PokerStars
Amaya Gaming is reporting that they have wrapped up the real to acquire the parent company of PokerStars and Full Tilt Poker. They had until September 30 to conclude the deal and did so on August 1, about two months ahead of schedule.
Not only did Amaya shareholders have to agree to the deal, but regulators around the world were required to as well, but all this has now been finalized, as expected. Amaya's shares have been rising over the last 2 weeks in anticipation of this coming to a conclusion.
Also as expected, Amaya is retaining the offices and staff of PokerStars, with the exception of former CEO Mark Sheinberg, which they reconfirmed in a recent press release. Given PokerStars' monumental success, it probably wouldn't be wise to tinker with things too much.
With the transition of company ownership now in place, Amaya Gaming can now look to see if they can obtain a license in the U.S., starting with New Jersey, where they are expecting that PokerStars will get a warmer reception now, and indications are that this is now a distinct possibility. Whether this move ends up turning the tide in states like California remains to be seen.
888 CEO Says Let PokerStars Compete In U.S.
Brian Mattingly, CEO of 888 Holdings, which operates 888 Poker as well as their other gaming interests, has come out in favor of U.S. regulators allowing PokerStars to compete alongside them in U.S. markets, now that the company has been sold to Canadian online gaming firm Amaya.
PokerStars, together with their sister poker room Full Tilt, have a 54% market share of the worldwide online poker market, and boast over 85 million users. This dwarfs the footprint of 888 and every other online poker company out there. The current regulated markets in the U.S. have really struggled, with so few players to go around, so some may wonder why 888 or any other existing player in the market would welcome more competition, especially when it comes from such an industry titan as PokerStars.
Mattingly's thinking though is that these markets certainly need a boost and perhaps by bringing in such a major player, this may expand the market overall and perhaps bring up all ships. If Poker Stars' record in other regulated markets such as France, Italy, and Spain are any indication, there may be some truth in this.
Those 3 satellite sites, Pokerstars.fr, Pokerstars.it, and Pokerstars.es are all in the top 11 most heavily trafficked sites in the world, in spite of all being confined to a single country. Their participation in the U.S. may be exactly what is needed to finally see these markets achieve more of their potential.
U.K. Regulated Gaming Soon To Be In Force
With the deadline for obtaining a license to operate online gaming in the U.K. fast approaching, operators now have very little time left to obtain their licenses if they wish to not experience any delays in offering online gambling to U.K. residents.
The deadline for applying has been set as September 16, to allow enough time for them to be processed by October 1, 2014, the date which the Gambling Act in the U.K is set to be in force.
It is estimated that 85% of the online gaming traffic in the U.K. has been unregulated up to this point, in other words conducted by operations outside the country, and the goal here is not only to capture a 15% tax on all such gaming, but to also exercise much more control over things.
We will have to see what the ultimate impact of this new regulatory framework is, and whether or not they do manage to bring everyone on board, or whether some sites will continue to do business with U.K residents without being licensed.
L.A. Drivers Break Out Holdem Table During Traffic Jam
Los Angeles is famous for its traffic jams, so much so that a resourceful driver actually unloaded a poker table from their vehicle and set it up right on Interstate 5 during an extended traffic jam brought on by a man who wouldn't get down from an overpass sign.
This ended up causing the freeway to be closed for a time, and the table was set up in the middle of the road, where pictures on social media showed a lively game of poker going on, with a full table and several spectators.
The event ended up being reported to a local T.V. station, who first mistook it for a taco stand. That probably wouldn't have been a bad idea as well, but it was later confirmed that it was actually a game of Holdem that was going on there.
The man who caused the whole disturbance was rescued over 3 hours later, unharmed, and was taken to hospital for evaluation, and the highway was finally reopened, ending the game as well, perhaps to the disappointment of the participants.
If there is any doubt that Californians love their poker this should silence it.