Bodog is primarily known for it's popular online sportsbook, but members of Bodog.eu also have the option of playing poker online at the Bodog Poker room. Bodog runs an independent poker room, which limits the number of tournaments and stakes available for players, but also ensure that the games are very loose because the majority of players are online sports bettors or casino gamblers who occasionally try their luck at the Bodog poker tables. Bodog Poker has been slowly growing over recent months and this trend should continue in the future as Bodog continues to branch out it's marketing efforts. Bodog offers great value to online poker players, not only in the form of soft competition, but also in the form of a 100% matching bonus up to $1000 on first deposits. The Bodog Poker software is very unique and thoroughly enjoyed by many players.
Just want a download link? Click here to download Bodog Poker now.
Bodog Poker Download Guide
1. Download.
Click here to download the Bodog Poker software. The download is completely free and only takes a few seconds.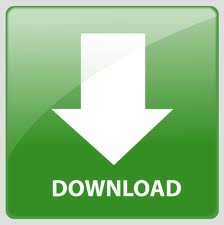 2. Install
After your download is complete you will need to install the Bodog Poker software to your computer. Do so by running the BodogPokerClientEU file that you just downloaded to your computer. Follow the instructions through the BodogPoker Setup Wizard to finish your installation.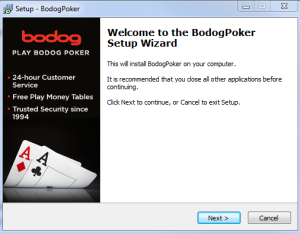 3. Launch Bodog Poker
Once the installation process has completed the Bodog Poker software will launch automatically. In the future you can launch Bodog Poker by clicking on the red "b" icon on your desktop.

4. Create a Bodog Poker Account
When you launch the Bodog Poker client you will be asked to enter your username and password. If you are new to Bodog, it is at this point that you will need to create a Bodog account in order to participate at the tables. Do so by clicking the "Join Now" button on the left side of the Bodog poker window as shown below.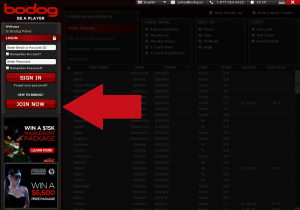 Clicking the button will open a new window in your internet browser with a form that you must fill out to create your Bodog Poker account. After filling out the form, click the red 'Open My Account' button to create your account.
5. Play Poker
You can now return to the Bodog Poker client, which should still be open on your computer and enter your log in details. Then go ahead and hit the Bodog Poker tables!
Ready to get started? Click here to download Bodog Poker now.