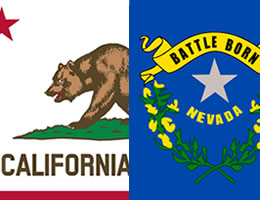 Online Poker
The worldwide online poker market based upon cash game traffic gave back the 2% gain it made last week, dropping by the same amount this week. 7 out of the top 10 online poker sites declined, with only 3 of them posting a gain.
Adjarabet continues to hold on to fourth spot overall, in spite of their traffic declining a bit this week. They actually still hold a good lead over fifth place Full Tilt, 1800 average players to Full Tilt's 1500.
Bodog is back in the top 10 again after falling all the way to 11th place last week, and are back to their usual seventh spot now, a position where they have spent the most time at lately.
PokerStars Continues To Rebound
After seeing their cash game traffic dip significantly lately, PokerStars followed up on their 2% comeback last week by adding another 1% to their cash game traffic levels this week.
They still have quite a way to go in order to recapture the cash game traffic lost to their sit and go promotion they ran recently called Spin and Go, which saw at least 12% of their cash game traffic to disappear, and so the 3% that they have managed to rebound so far is only at best a quarter of what was lost.
Battle of Georgia Wages On
Adjarabet has recently moved up from a fringe top 10 poker site to a real player in the game, and has been in the limelight the past couple of weeks with their fourth place overall ranking, and this has been a result of their very aggressive recent promotion to become the clear king of the Georgia online poker market.
There are still three weeks left in their Poker Masters promotion, offering very enticing bonuses to their players, but things have already started to wane, seeing them drop by 1.6% this week.
Their rise was so impressive though that they still sit in their newfound lofty position, as the promotion winds down we are certainly going to see more decline in their numbers, and probably some big ones.
However when it's all said and done, this all may have Adjarabet in a better spot than before the promotion, as they have managed to take such a commanding lead in the Georgia online poker market that they will likely retain at least some of these gains.
California Continues To Try To Come To An Agreement On Online Poker
The battle in California over proposed legislation to regulate intrastate online poker sits in limbo right now, waiting for the state legislature to resume in January, and therefore we won't see any real action until at least then, but that doesn't mean that discussions over this aren't continuing.
Mark Macarro, Tribal Chairman of the Perchanga Indians, who have the largest tribal gaming operation in the state, recently shared his thoughts on the progress of the talks as well as his expectations.
Macarro believes that the appetite for regulated online poker in California has not diminished in spite all the bickering that has gone on over the details, and he expects that we will see a bill passed on this quite soon. He stated that he expects a new proposal to emerge in December, with the details to be worked out in time for the next legislative session in January.
He also isn't that dissuaded over the way online poker has struggled in the other states that now have it, and it is true that California is a lot bigger market than these other states, several times bigger than the three states combined in fact. So the mood remains positive and we'll look to see what happens in the coming months.
Nevada Poker Revenues Drop To Its Lowest Point Ever
Online poker revenues in Nevada are down again, for the second straight month now, and have given back the gains that were made during the WSOP period and then some.
Revenue for September for online poker dropped a further 6.7%, while overall gaming revenues in the state were down 2.1%. This represents the lowest figures for the online poker market since it was rolled out, not a particularly good sign for a segment that was expected to grow over time.
Compared to this time last year, online poker revenue is down even more, to the tune of being off by 8.9%. The overall gaming revenues in the state are up a little bit over last year's performance though, by 1.39%.
So things are not too terrible for Nevada gaming overall, but the performance of the online poker market sure could use a boost. They also continue to comprise a very small segment of the overall Nevada gaming market, which isn't too much of a surprise considering now big the land based gaming market is there, but people didn't predict it would comprise such a miniscule segment of the market.
The truth is though is that the population base of Nevada is simply too small to support a larger scale online market, and most of the land based revenues in Nevada come from tourists from outside the state, so if they hope to expand their reach very much they will likely have to rely on bringing in other states into their fold.
Nevada has already had some success with their plans on bringing in Delaware, Delaware's market is very small, and they will need a lot more of that to bring their market up to the point where it can deliver anything close to what their original expectations were.