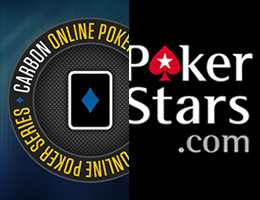 Carbon Online Poker Series
Carbon Poker, one of the top poker rooms in the Merge Network, is preparing to roll out an extensive series of tournaments starting on Sunday, November 9, called the Carbon Online Poker Series.
The series will take place over 15 days, and will feature a minimum of 4 tournaments per day, with a total of 78 events scheduled altogether. The combined guaranteed prize pool of these events will be in excess of $ 2 million. Buy ins for these tournaments will range from $5.50 all the way up to $530, ensuring that players with all budgets and bankrolls will be able to participate. The series culminates with a $250,000 guaranteed tournament with satellite opportunities available for as little as $1.10.
Merge, which was once the top U.S. facing site, is now the second most heavily trafficked poker site which offers play to Americans as well as from players from elsewhere in the world, has increased their traffic a bit over the last few months and currently sit in 16th place overall in the world rankings. Carbon Poker is one of the two premier poker rooms on the network.
888 Posts Record Revenue In Q3 of 2014
888, one of the world's leading online gaming companies and provider of 888 Poker, which has consistently been the second most popular poker room in the world after PokerStars, has released their revenue numbers for the quarter ending September 30, 2014, and the numbers are impressive.
The company's online gaming operations achieved a total of $114 million in revenues this past quarter, up from the $98 million they took in during the same quarter in 2013. This increase was mostly driven from their very successful online casino operations.
While their casino delivered a very impressive $56 million in revenue this quarter, an increase of 23% the previous numbers, 888's poker operation still comprised a significant component of their overall take, coming in at $23 million, although this only represented a modest increase of 3%. Bingo came in third, delivering 9% better numbers to bring the total for this form of gaming to $11 million.
The good news for the poker side is that while the numbers on this end have only inched up a bit, they at least are on the rise, in contrast to a lot of online poker operations which have experienced a decline during this period. 888 Poker has definitely come a long way though over the past couple of years and look primed to continue their success.
Adjarabet Continues To Impress
As of last week, Georgia based online poker site Adjarabet had worked their way all the way up to fourth place overall in the world traffic rankings, and with their recent massive promotion starting to wind down, with traffic starting to decline, it was widely expected that their recent run would soon come to an end, and they would start dropping closer to their usual marginal top 10 rankings.
However, not only did that not happen this week, they managed to move up yet another spot, to third place overall, overtaking massively popular iPoker who has held the third position almost every week for quite some time now.
While we're still waiting for them to drop back down to 10th or 11th place soon, who knows what will happen and they may even be able to buck the trend and see a big promotion like this have more than just temporary effects as is usually the case with these.
PokerStars Players Complain Of Higher Rake
Many in the poker community are upset about PokerStars' recent rake increases, especially in conjunction with the less friendly exchange rates that they posted around the same time.
Several pros have recently spoke out on the issue, ranging from PokerStars pro Daniel Negreanu who was pretty apologetic about it, to several who feel that PokerStars almost has a monopoly on online poker these days and is using the power they have to advantage themselves even more.
Some, like Phil Galfond, have gone as far as to speculate that this increase may put an end to the realism of the dream of so many small players to be able to work their way from the small stakes all the way to the big ones, and if this dream dies or becomes less realistic, this may affect the business in general pretty significantly.
Given the fierce competition at PokerStars even at the smallest stakes, there may be some real truth in this, as even the best players only manage very small win rates there, with many having to rely on frequent player points to provide their edge.
So this could end up hurting PokerStarts' bottom line in the end, especially if more players gravitate to the competition. It's not that PokerStars has a monopoly, but what they do have is a tremendous amount of momentum, created mostly by their massive traffic. If this is reduced, this would be very welcome news for their competitors, who would be more than eager to take on these less enchanted players.