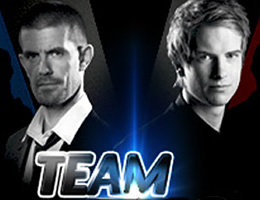 View From The Sky
After declining over the last few weeks, the world online poker market rebounded by 2% Last week, the trend had been turning around with 6 of the top 10 sites putting in an increase, and this repeated itself this week. Market leader PokerStars had been among the decliners last week though, and turned that around enough to join the advancing poker rooms which made all the difference here.
The star poker room of the week though was clearly Adjarabet, who climbed from ninth place all the way to fourth, which represents the first time this site has ever been in the top 5.
Bodog continued their recent drop, this time seeing them fall completely out of the top 10 to eleventh place, after being a fixture in the sixth or seventh spot for quite some time.
The market is now down 11% from its overall traffic numbers this time last year, bettering the 14% it was down last week using the same measure.
Adjarabet On A Rampage
Adjarabet had already been riding a wave of popularity due to their recent efforts promoting their poker site, but this week they added a further increase of a whopping 60% to their already elevated traffic numbers, due to a very aggressive degree of promotion that is going on there.
In an effort to increase their lead over rival Georgia poker room Europe Bet, who had been making some pretty impressive moves of their own lately, Adjarabet unleashed a massive $300,000 leaderboard event that ended up making a pretty significant impact on their numbers.
Europe Bet's most recent promotion just ended and they now sit back in 17th place overall, with 550 average cash game players in comparison to Adjarabet's 1900.
PokerStars Shifts Gears
PokerStars' cash game traffic numbers have been declining lately due to their new sit and go lottery format called Spin and Go taking players away from their cash games. As expected though, things are starting to turn around on the cash side of things this week, evident in their posting an increase of 2% this week, in line with the market average gain.
The sit and go promotion resulted in somewhere between 12 and 16 percent of cash game traffic going over to the tournament side, so the 2% rebound this week is at least a start to their recovery, although PokerStars probably isn't worried about this as their play itself hasn't suffered.
U.S. Regulated Online Poker News
The New Jersey market didn't follow the worldwide trend at all this week, and in comparison to the 2% average gain that the market saw, they underperformed that number by 7%, putting in a 5% loss instead.
The market in New Jersey isn't really tied into the world market all that much though so seeing it deviate so much isn't really that surprising. The decline was led this week by top poker site Party Borgata, which has dropped all the way to 36th place with an average of only 130 cash game players now. Second place in the state, WSOP New Jersey, sits not far behind now with 120 average cash players and in 40th place.
In Nevada, the news was much better, as both top two sites there, WSOP Nevada and Ultimate Poker both gained 5% on the week.
Full Tilt Cuts More Famous Pros
The online poker industry has been moving away from the big sponsorship deals that have been a fixture in the online poker industry for many years now, and this is really evident at Full Tilt, who let go two more pros this week.
Gus Hansen and Viktor Blom were told they will no longer be representing the online site this week, and this doesn't appear to have anything to do with the players themselves, it's based upon a change of direction in marketing.
At one time having some famous faces behind a poker brand no doubt had a significant impact on attracting players, and perhaps no site took advantage of this as much as Full Tilt did in earlier days, with their large stable of famous pros, but times are changing.
While you still see poker sponsorships playing a role in the business, I think that we'll continue to see a movement away from this. Pretty much all of the online poker sites have some faces up there, but with some of them they are people no one has ever really heard of, who can no doubt be had more cheaply.
Will Full Tilt Open Up In New Jersey?
With the coming entry of PokerStars into the New Jersey market, there is speculation that Amaya Gaming may also look to get their other major poker brand, Full Tilt, into the market as well.
Of the two poker sites, there's no question that Full Tilt is the one with the most damaged reputation, and in fact PokerStars' reputation remained unscathed in the eyes of players at least. Full Tilt, on the other hand, did leave a bad taste in the mouth of many American players, and they not be very competitive at all especially going against Poker Stars.
The plan is to have Full Tilt focus more on casino games, and that would presumably be the case in New Jersey as well, but we'll have to wait and see if this will ever come to pass.