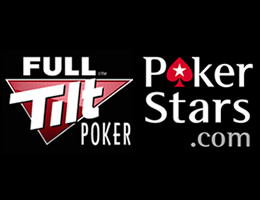 Online Poker
The online poker market managed a small gain this week of 1%, with 7 out of the 10 top online poker sites posted a gain in traffic, with 3 losing ground. That's a pretty broad based gain for a week in which only a little progress has been made so that indicator is a healthy one.
PokerStars has increased their average cash game traffic to 21,000 players. 888 and iPoker continue to hold down their usual second and third place rankings with 888 keeping a healthy lead of 600 players over them. PokerStars.it is in fourth spot, followed by Full Tilt in fifth, Pary Poker in sixth, Bodog in their usual seventh spot, PokerStars.es in eighth, Winimax.fr in ninth, and Adjarabet rounding out the top 10.
Compared to this week last year, the overall market is down by 15%.
Full Tilt's Gold Rush Continues
Due to the success that Full Tilt is currently having with their fast fold poker promotion called Gold Rush, they have now extended it to Feb. 1.
The Gold Rush bonanza applies to both fast fold formats currently being run at Full Tilt, Rish Poker and Adrenaline Rush. This promotion awards additional prizes to players of these games, which has proven to be an even bigger hit than expected.
This promotion has already been ongoing for over a month now and unlike most promotions, it has really shown some staying power and continues to influence the numbers pretty significantly. Participation at these games went from 38% prior to the promotion to peak at 50%, but is still maintaining an impressive 45% after all this time, so the fun has been extended.
Having almost half of a poker site's cash players playing fast fold poker is pretty amazing actually and Full Tilt is positioning this form of poker as a real plus and they certainly are well ahead of the average when it comes to this.
PokerStars Italy On A Winter Mission
PokerStars' Italy site has started off 2015 looking to recapture some of the traffic it lost in 2014, a fate which has befallen most online poker sites as this has been the trend in the overall market.
So they have begun the new year with their Winter Missions promotion, which is now well underway. Players select a mission based upon the accumulation of a certain amount of VPP points, and if they succeed in their mission, they become eligible for an additional bonus, although they must complete the feat a second time to receive it.
This did end up boosting traffic pretty nicely, and they are up 20% overall so far, and this has been enough to propel them to fourth spot in the world rankings as we speak. So while they likely will settle in to more historic numbers when the promotion is over, they are at least getting a shot in the arm for now.