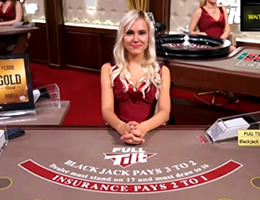 Full Tilt adds live dealer casino tables
Full Tilt is on a mission to expand their casino game offerings and they have just added the live dealer format to it, bringing them up to par with the best online casinos out there. They do not wish to have their casino offerings seen as second rate, and given the popularity of the live dealer format, their casino players who wish to play this form can now take advantage of it at their site.
With the live dealer format, players are dealt real cards or have real roulette wheels spun for them, just like they would at a real casino. For players concerned with the integrity of software based gaming systems, this takes that right out of the equation, as through the magic of remote cameras at actual locations the experience is just like being at a real casino, without leaving the comfort of your own home. It also adds more of the social experience of casino playing as you are interacting with real dealers, not a computer.
The new owners, Amaya Gaming, come at all of this from the casino side of things and continue to aggressively expand the casino side of Full Tilt, and are also planning on introducing sports betting as well, to take Full Tilt from just a poker site to a full service online gambling establishment.
Casino gambling at PokerStars for the first time
Full Tilt has been offering casino action for a little while now, and the last bastion of a major online poker site just offering poker has been PokerStars. This is the case no more, at least as far as the PokerStars brand goes, as they just introduced casino gambling to their Spanish brand, Pokerstars.es.
Now, players on the Spanish PokerStars site can enjoy both blackjack and roulette, under a separate casino tab. Parent company Amaya Gaming originally announced that the plan was to keep PokerStars poker only, but has since expressed a desire to add other games to it, and this is a first step in that process.
The plan is to add casino games to PokerStars Italy in the near future, and while there are no announced plans for casino action at the main PokerStars site, it is very possible that we may see that as well in the near future. There are also plans underway to add both poker and casino games in PokerStars' upcoming New Jersey offering.
While it is not foreseeable that Amaya will drop the word poker from PokerStars' site name like they did at Full Tilt Poker, and poker will probably always be the main focus at PokerStars, it probably won't be too long before they start offering casino and sports betting like just about all major poker sites and even the minor ones do these days.