Full Tilt Poker came under intense scrutiny and actually shut down for over a year due to the Black Friday scandal. Luckily, even though it took a while, PokerStars purchased Full Tilt and is now in the process of ensuring that all players who had their funds locked up due to the Full Tilt shenanigans will have access to their funds.
Even though it went through a bad spell, Full Tilt still has one of the best software's in the poker industry and offers great promotions that really benefit the players. Having relaunched only a few months ago they are already the fourth largest poker network on the internet and players now have the ability to transfer funds to and from Full Tilt and PokerStars, which means you can choose your favourite tournaments or cash games from each poker room.
If you are willing to give Full Tilt another chance, follow the instructions below to download the Full Tilt client.
Full Tilt Poker Download Instructions
We have included screenshots for many steps to keep you on track.
1. Download
Click here to visit the Full Tilt Poker website. At the site you will see a red "Play Now" button in the middle of the homepage. Click this button and it will initiate a secure download of the Full Tilt Poker client.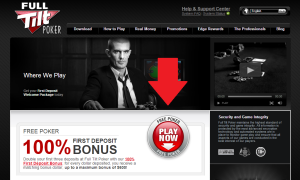 Clicking this button will also take you to the Full Tilt Poker download instructions page.
2. Install
After you have downloaded the software you will need to install it to your computer. Do so by running the FullTiltSetup.exe file that you just downloaded. Follow the Full Tilt Poker Installation Wizard through the install process.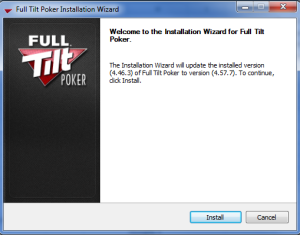 3. Launch Full Tilt Poker
Once installation is complete you can proceed to launch the Full Tilt Poker client. This should happen automatically when you finish installation, but if it doesn't just click on the Full Tilt icon on your desktop.

4. Create a Free Account
After you have launched the Full Tilt Poker client click 'Create New Account' in order to create your own personal Full Tilt Poker account.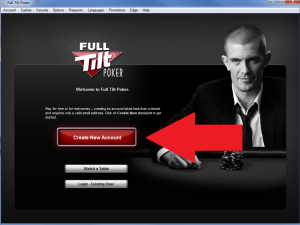 A form will pop up where you can create a new Full Tilt account by entering a screen name, password and email. It's very easy.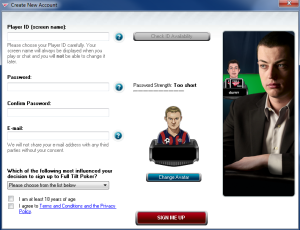 5. Play Poker
After you have created your account go ahead and login by clicking on the 'Login – Existing User' button, which is located under the 'Create New Account' button on the original window. Good luck at the tables!
Ready to download? Click here to visit Full Tilt Poker.