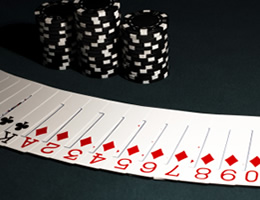 Many people have a speciality game when they sign up to play online casino games. For example, there are people who specialise in playing poker and that's the only game that they really want to play.
But as anyone who knows how much thought and decision-making goes into a game of poker will tell you, there are plenty of times that you may feel like playing but know that it's a bad idea to sit down at a poker table – virtual or not.
You need to have your wits about you when you play poker, as you never know who will be playing against you, especially when the game is online. You may be up against a beginner, or a poker pro. The point is that you may be out-manoeuvred at any time, so you need to be focused and alert. You shouldn't play when you're stressed out, have had too much to drink or feel tired. Playing in these circumstances will drastically reduce your chances of coming away with a share of the pot.
So what should you do instead? There is, of course, a myriad of choice when it comes to online casino games. Many of the poker sites such as 32red, Titan and SkyPoker also host other games, so you can mix what you play all within the same account.
One of the most popular casino game choices for when you just want a bit of fun to unwind with is to play slots. The choice of new slot games online grows by the day, so whatever theme interests you, you'll find a slot to match. For example, one of the biggest new slots on the online casino market is the Terminator 2 slot which you can find at all the main casino sites like 32red. It's obviously tied in with the Terminator 2: Judgement Day movie that came out in 1991, so you'll find all the main characters there such as Sarah Connor, the T-1000 and the Terminator himself. This is just one example, though, of the vast arrays of slots you can find online. They're an ideal choice for playing at the end of a stressful day when you just want something to entertain you. There's no need for you to strategize as you play – as what you do won't affect the outcome of where the spinning reels land.
Sometimes, though, while you may not have the time or focus for a game of poker, slots may seem too easy. In this case, a good 'middle-ground' option would be to play a round or two of blackjack. Blackjack has a lot to do with the cards you've been dealt, but you can take evasive action with a poor hand – for example, by splitting a pair of eights and playing the two new hands separately. Alternatively, if you feel you've got a strong hand you have different options such as doubling down. While there's undoubtedly some room for decision-making in blackjack, it's somehow a lighter game to play than poker.
Of course, for variety there are plenty of other games you can choose to play such as keno or crapsBut what you play doesn't really matter, it's just being willing to mix it up a little and to be able to recognise when it's not a good time to play poker. That way, when you come to your next sit 'n' go tournament, you'll be sure that you're on best form and ready to build on your bankroll.