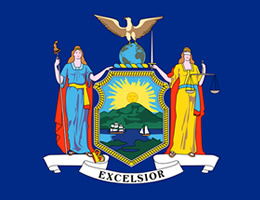 View From The Sky
The online poker market fell a half a percentage this week, due in large part from declining traffic numbers at PokerStars who are in the midst of a sit and go promotion that continues to draw players away from their cash games and toward these new tournaments.
Compared to this week last year, the overall numbers are now off 14%, compared with 13% last week. In spite of the loss in traffic overall, 6 of the top 10 sites showed an increase, with 4 decliners, including PokerStars.
Full Tilt ended their brief flirt with third place, dropping back to fourth this week as iPoker reclaimed that position that they have held for quite some time now. Bodog slipped from sixth to eighth, with Pokerstars.it moving up to sixth in their place. Adjarabet continues to hold on to ninth place, we have been waiting for them to drop out of the top 10 again but their staying power is greater than predicted.
Campaign For Online Poker In New York Heats Up
Players from New York State have been clamoring for a while for the state government to move on regulating online poker in their state, particularly since their neighbors in New Jersey have been playing online for quite a while now.
Now MGM has joined the fight, and is currently lobbying state legislators to allow for regulated online poker in this state, which they seek to become a part of.
Big money does talk, and can speak rather loudly at times, and it can only help to have a casino operator this large on your side. MGM Resorts International is one of the world's biggest gaming companies, with $10 billion a year in revenues.
They have discovered that NY residents wager a total of $110 billion online even though this isn't even legal in the state. They are using this as a carrot to try to influence legislators, and although the tax revenue in NJ was much less than originally forecast, NJ is a much bigger pie and could deliver some serious extra tax money to the state when they finally get around to approving this.
New York State players does not have easy life. Few sites still accepting US players have pulled out of the state. However there are still few unregulated sites that do accept NYC residents including Americas Cardroom, Carbon Poker and all bitcoin poker sites.
PokerStars Cash Game Traffic Continues To Decline
Due to their ongoing spin and go promotion, which introduced the lottery format of sit and go's to their main site, PokerStars saw a decline in cash game traffic for the second week in a row this week.
Since tournament play isn't tracked in the cash game numbers, players playing less cash games in favor of tournaments will tend to reduce the cash game numbers unless there is a corresponding rise in cash game traffic. With tournament promotions, this usually is not the case.
We can't just say that this promotion just cannibalized the cash game traffic as it often leads to an increase in a poker site's overall traffic, and when the promotion is over, this extra traffic may even distribute to the cash side of things enough to produce an increase overall in cash game traffic numbers.
For now though PokerStars' cash numbers continue to suffer, although over the past day things have rebounded nicely and they now sit at 18,000 average cash game players, in comparison to the 17,500 they had this time last week, so things are resolving already.
Full Tilt Comes Down To Earth A Bit
Another promotion that has impacted traffic significantly is Full Tilt's Easy Bonus promotion, which had them all the way up to third place overall for a time, although they have already settled back into fourth place.
While traffic has slipped 14% this week, they are still at a higher level than before the promotion began, although there remains one more day in it so we likely haven't seen the worst of things yet. These bonuses do need to be cleared though so the effects will probably be a little more lasting than some other types of promotions, but the expectation is that Full Tilt will probably settle back into sixth or seventh place before too much longer, to positions they have been more accustomed to lately.
PokerStars Tightens Things Up
Astute players have been noticing that PokerStars has been pulling back with their payouts and requirements lately, perhaps in response to input from their new owners, Amaya Gaming.
Their welcome bonus remains the same, which is 100% of a player's initial deposit, or in this case deposits, as PokerStars does allow a total of 3 qualifying deposits to be made, providing they are all made within 60 days of the initial one. This was recently changed from 90 days though.
The time to clear the bonus has also been reduced, from 120 days to 60 days. This may not be something that new players tend to look at very closely at all since hardly anyone pores through a poker sites' terms and conditions prior to signing up, but it will mean that more players will become frustrated by not being able to achieve the bonus requirements, which isn't particularly good for player retention.
The cashback rate has also been reduced, from 32% down to 27%. We'll have to see how these changes affect PokerStars' stranglehold on the market, but this may be good news for their competitors.