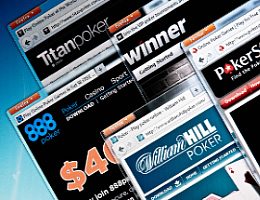 Online Poker Traffic
The online cash game poker market experienced its third consecutive losing week in a row, this time dropping a further 2%. 7 of the top 10 sites lost traffic this week with only 3 putting in a gain.
Bodog passed Pokerstars.it for fourth place, trading places with them and sending them down to fifth spot. Adjarabet dropped out of the top 10 this week, dipping to eleventh, giving up their tenth place rankings to Pokerstars.fr, who now occupy 4 of the top 10 placings.
In spite of the downturn we saw in the month of February, the overall market is holding steady at 13% off its numbers from a year ago. This suggests that February wasn't a particularly good month in 2014 either, and it's hoped that things will start to pick up as spring moves in.
Adjarabet Continues To Ride Magic Hands Promo
Georgia based online poker site Adjarabet has been riding its Magic Hands promotion for several months now, and while traffic is nothing like it was when they made it all the way up to fourth spot at the peak of the promotion, they still are doing quite well and have been pretty much in the top 10 since, even though they are currently outside this right now in eleventh.
Last week they did up the ante with the Magic Hands promotion, increasing the rate in which Magic Hands are paid out, which did at least temporarily increase traffic enough to take them up to ninth spot for a time, although things have settled down since.
The plan seems to be to migrate their traffic with MPN although that is taking a while to implement, so for the time being anyway their traffic is being tracked separately from MPN's. Once they are finally merged though this will serve to more than double MPN's traffic, as Adjarabet is bigger than the network itself is now, so this will likely benefit both sides, allowing for a significant growth in liquidity all around.
MPN is currently in fourteenth spot but may soon be a regular fixture in the top 10, competing with the likes of Party Poker and Full Tilt for sixth and seventh based upon the combined traffic of these two sites that are to be merged.
iPoker France Surging
iPoker France has really moved up the charts as of late, hot on the heels of Party Poker France for the third place spot in the French regulated online poker market.
Not long ago, Party Poker France had a healthy 23% lead over their iPoker competitor, but over the last few weeks this edge has been reduced to only 4%, thanks to an impressive 31% increase in traffic by iPoker France over this time.
Things have stabilized though for both sites who both are kicking around the 600 cash game player average lately, with Party Poker sitting at 600 this week and iPoker not far behind with 575.
Both sites trail market leader Winimax.fr and second place Pokerstars.fr by a good margin, with Winimax coming in at 1250 and Pokerstars.fr putting up 950 average cash players this week. Winimax has remained stable while Partypoker.fr has seen their numbers decline a bit over this period.