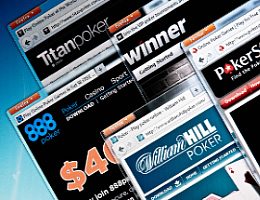 Online Poker
Things were very stable this week in the online poker cash game market, with traffic dipping but by a very small amount, 0.3%. PokerStars' average traffic remained exactly where it was last week, at 19,500. Bodog dropped from fourth to sixth spot, trading spots with Full Tilt on the strength of a promo that Full Tilt is currently running.
Compared to this week last year, overall traffic is now down 19%, down from the 14% it was down last week, meaning that the market put in a very good week this time last year while delivering flat results this time.
PokerStars has reaffirmed its place as the king of online poker. PokerStars boasts more cash-game players than the next 10 most popular poker sites/networks combined including 888poker, iPoker and Party Poker.
Full Tilt's Gold Rush
Full Tilt put in a nice week, partly due to a promotion they are running with their fast fold format known here as Rush Poker. Rush Poker is the original fast fold poker as they invented it a few years ago and it remains pretty popular here.
Their Gold Rush promotion randomly awards Rush Poker players with prizes ranging from free tournament tickets to $10,000 cash. So far it's been a hit with Rush Poker traffic up almost 50% and overall cash game traffic up about 25%.
In spite of this promotion running for the rest of the month, things are already starting to die down, as the numbers have peaked a few days ago and have declined a bit since then, so expect this promotion to have a lesser effect on Full Tilt's numbers next week.
China Cracks Down On Gambling
Any thoughts of the Chinese online poker market booming anytime soon may need to be tempered, given the government's opposition to it, something that was very evident during a recent crackdown on both gambling and pornography, resulting in over 30,000 arrests combined.
Things may eventually change in China but it probably won't happen anytime soon, as the government is firmly opposed to online gambling and gambling in general and has also taken measures to block access to offshore gambling sites.
Gambling is illegal in Mainland China even though they do have the lottery now, and online gambling itself may nor may not be considered illegal depending on the province, but we do have a ways to go before this market ever achieves its potential if and when gambling becomes more widely accepted.