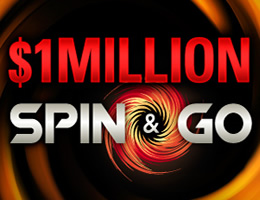 PokerStars $1 Million Spin & Go
PokerStars' new Spin and Go lottery sit and go format has been running since December, with a potential prize of $1 million, which no one has won yet, until now.
A Russian player "sss66666" turned a $5 buy in into the magical amount of one million in the space of only 13 minutes 26 seconds. Two other players - "geldduvel" from Belgium and "Nonko999" from Bulgaria, each won $100,000 for their finishes.
This format has been very popular and while it was introduced by PokerStars on a promotional basis only, the ultimate goal was to see if they could turn this into a regular thing on the site and so far things look very good for that happening, to the delight of a lot of players who enjoy the much bigger potential it provides.
For those unfamiliar Spin & Go are very fast one table sit and go's, with buy ins ranging from $1 to $30, but are just three handed and feature short stacks of 500 chips each, so they do get over very quickly, something that a lot of players value.
The real twist here is that the prize pool isn't set or even known like other sit and go's, players play for a jackpot that is determined randomly right before the action begins. Prize pool may vary from double the buy-in to 3000 times the buy-in. So the $30 buy-in Spin & Go gives you the chance to win up to $90,000 in minutes.
888 & WSOP New Jersey Sites Start Pooling Players
WSOP New Jersey and 888's New Jersey site have come to an agreement to start pooling players. This will involve some low limit cash tables and select tournaments.
This is a great idea in fact and players will certainly benefit from this as it adds to the liquidity of each site by expanding the player pool. If this goes well, and there's no reason why it shouldn't, we may see an expansion of this down the road. 888 provides the software to both sites so the transition was a very smooth one.
The two sites are still operating with the same independence as they always have, but by banding together they may be able to both attract more players and gang up on market leader Party Borgata more. Together they would be able to boast the most traffic in the state, and in a business where traffic talks, this can make a big difference to results.
There are some concerns about duplicate players on the sites but the sites feel that this is manageable, at least to the extent that they have begun this process.
Once Poker Stars joins the party, this move could end up being an important one indeed, as the market has had difficulty supporting more than 3 sites and PokerStars would be the fourth one so this means that one of these two other sites may have to band together or die.
Mississippi Takes Another Shot At An Online Poker Bill
The U.S. state of Mississippi might seem like a real natural for online poker, given their large online casino industry, which boasts a total of 30 operations and takes in over $2 billion in revenues a year. The State of Mississippi isn't shy about gambling, and the people there do love to gamble, so why not provide internet poker?
Attempts to introduce online poker bills died at the committee stage in both 2012 and 2013, and this latest one may meet a similar fate. It does not seem that the will for online poker is there yet, in spite of the advantages of additional tax revenue.
Still though, these things often take time and it's often more a matter of being persistent enough, and waiting for the right time where attitudes change enough to make this more likely.
There is also talk of compacts with either Nevada or New Jersey, and New Jersey is thought to be a particularly promising partner, not only because the market there is larger than in Nevada, as the two states share several land based casino operators.
There is still a lot of concern in Mississippi that online gaming may cannibalize their land based gaming, and although this has been shown to not really be the case elsewhere, legislators remain reluctant to proceed, for the time being anyway.