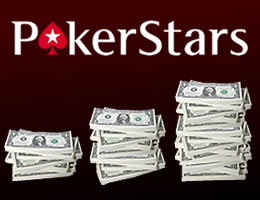 Online Poker
9 out of the top 10 online poker sites saw an increase in traffic this week, with the broad based gain propelling the market to a 3% overall gain in cash game traffic.
PokerStars is maintaining its average of 18,500 cash game players in spite of a lot of dissatisfaction being expressed by players there over recent rake increases, which continue to happen. We'll watch this number closely going forward to see if all of this has an effect on their overall cash game numbers.
We'll also be keeping an eye on their closest competitors to see if we perceive any trends with them. Second place 888 Poker has narrowed the gap a bit lately but still sit a very distant second at 2300 average cash players. The iPoker Network regained their normal third place position by coming in at 1900, followed by Adjarabet who maintained at 1800 and continues to surprise.
Full Tilt and Party Poker are fighting it out for fifth with 1600 each. Overall the world market is down 15% from where it was this week last year.
More Rake Increases For PokerStars
More rake increases hit the felt at PokerStars this week, prompting a number of players to express their unhappiness.
There were also several "protests" planned, where players presumably were planning on staying away in numbers to convey a message to PokerStars' management, but all of this hasn't impacted their cash game traffic yet anyway, as they put in a small increase of 0.6% for the week, and although this was below the market average it still represented a gain, not a loss in traffic, even though the rest of the market collectively increased by 4.5%.
If players are really planning on sending a message here, it will require them to move to other poker sites, and some may indeed do that, although as far as high stakes players go they really may not have much choice but to just suck it up as PokerStars' commands the market for high stakes poker.
High stakes play actually increased by 21% this week so that's certainly not dropping off. We'll have to see how this all plays out in the coming weeks though.
iPoker Comes Back Strong
After seeing a noticeable drop off in traffic lately, partly due to some technical problems that they had been experiencing, the iPoker Network followed up on their dropping down to fourth place last week with an 8% increase in traffic this week, significantly outperforming the market and launching them back into their more usual third overall.
Upstart Adjarabet, who had knocked them out of third the week before, managed to maintain their numbers from last week, somewhat surprisingly, but it was not enough to beat iPoker this week anyway.
We're still waiting for Adjarabet to drop back down, perhaps to their usual tenth to eleventh spot, but they continue to hang on for now anyway in the top 5. We will be a bit surprised if they still remain in this position next week, but from the way they are performing lately, it might be possible.
PokerStars NJ Bid Remains On Hold
Not long ago, the expectation was that PokerStars would get the go ahead and become licensed to operate in the state of New Jersey by October 1 of this year, and it's now well past that, and the situation remains in limbo.
New Jersey State Senator Ray Nesliak speculates that the delay may be related to the possibility that Congress may conduct hearings on the future of online gaming in the very near future, a move spearheaded by casino mogul Sheldon Adelson, who is extremely opposed to online gaming and has become the spokesperson of the efforts to ban it.
There is a bill afoot that would seek to make the interstate transmission of gambling information illegal for poker and casino action as well as online sports betting, and while this certainly would change the mood, even if passed, this would not limit intrastate transmission.
So it would not put an end to intrastate gambling per se, but it would end any compacts between states for sure, and also give potential new entrants pause for thought. It could even end up shutting down the business we already have if states feel that they may be pressured by the federal government should they not do so.
The good news is that lawmakers may be reluctant to turn back the clock this way and end up closing the door on the three states which already have regulated online gaming, in addition to the several states that are strongly considering doing so soon, so this may all end up just being saber rattling. However the sabers are being rattled and legislators in New Jersey, particularly governor Chris Christie who is said to be personally behind this delay in Poker Stars' approval, appear to be listening closely.
With the declining online market in New Jersey and the hope that PokerStars may end up being a savior of sorts, they may not wait too much longer though.