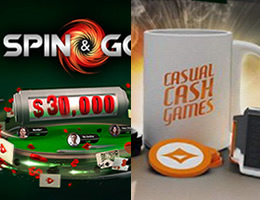 PokerStars Introduces "Spin And Go"
Back in July, PokerStars rolled out their version of lottery sit and go's on their Spanish site, which they called "spin and go". The idea was to see how popular this format was among their players, and if it proved out well enough, the plan was to introduce it at its main site.
Spin and go did catch on pretty well at Pokerstars.es, and PokerStars were satisfied enough with the results to now go ahead with it at Pokerstars.com, where this format is now available to be played.
These are very fast one table sit and go's, with buy ins ranging from $1 to $30, but are just three handed and feature short stacks of 500 chips each, so they do get over very quickly, something that a lot of players value.
The real twist here is that the prize pool isn't set or even known like other sit and go's, it is only determined after all three seats fill up, by way of a spinner, which sets the prize pool anywhere from double the buy in to 1000 times the buy in.
The rake percentage for this is actually a little lower overall, with the lower buy ins raking the industry average of 7 percent, and as the buy ins go up, the rake goes down.
However the real appeal here is the excitement of winning a much bigger amount than you normally would at a sit and go, which does make players eager to try this, and so far things are working out quite well with this new twist.
Party Poker Expands Casual Cash Games
Party Poker introduced what it calls "casual cash games" on its site a few months ago, aimed at the more recreational player. These players may not want to compete with the so called grinders that you see a lot of on poker sites these days, and if they stick to these "casual cash games," they won't have to.
Players who multi-table tend to be more skilled at the game, at least generally speaking, and not only do these better players tend to beat up on the more casual players, they sometimes seek them out specifically. This is less of a problem at Party Poker than it is at Poker Stars to be sure, which is rife with these grinders, and the more casual players tend to stand out more, and are therefore picked on more.
So with the casual game format, this is far less of a problem, since if you are seated at a casual game table you are not permitted to sit down at any other tables on the site. This does not prohibit these players from playing other tables on other sites at the same time, but certainly cuts down drastically the amount of grinders at these tables, as the grinders will generally simply ignore them.
So this does serve to achieve a very nice balance between wanting the business from casual players while at the same time looking to limit their being exploited.
So Party Poker has recently upped the ante here and now will offer casual games up to $10/$20 NL. This is a great idea and they should be applauded, as poker sites do tend to cater to the higher volume players more as a rule and this is a great move to seek to balance this.