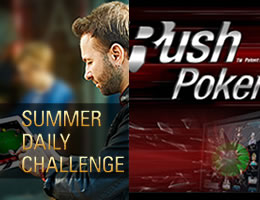 View From The Sky
Overall worldwide online poker traffic backed off by 1% this week, after two consecutive weeks of posting slight gains. Bodog briefly moved up from sixth to fifth place, its highest ranking ever, but has now backed off to seventh. Fifth to seventh is almost in a dead heat right now, all with average cash game traffic hovering around 1450 players.
Half of the top 10 sites this week increased their traffic count, while the other half experienced a decline. Compared to this time last year, overall online poker traffic is down 7%, an improvement over last week's 9% deficit and the best this number has looked in quite some time, which does make things look promising in spite of the decline this week over last.
PokerStars Issues Summer Challenge
PokerStars broke out a new promotion about a week ago called the Summer Daily Challenge, which is set to run for a total of 24 days during the month of August and will award over $500,000 in cash and tournament entries.
The promotion awards freeroll entries to players who compete various challenges, such as winning a certain amount of cash ring hands. It hasn't had much of an impact though, but did end up bringing up PokerStars' traffic count by 2% since it started, leading to an increase of 1.3% on the week.
PokerStars really drives the overall market to a large degree and anything that helps them helps the overall market as well.
U.S. Online Poker News
The New Jersey online poker market declined this week, with both Party Borgata and the All American Poker Network losing ground. WSOP New Jersey was up slightly, but this was not enough to make up for the losses on the other two main sites.
WSOP Nevada also declined this week, continuing their recent slide that was briefly broken by a nice increase last week. This now takes them below their pre WSOP tournament threshold.
Switzerland Looks To Shut Out International Operators
Swiss officials expressed an interest in moving toward regulated online poker recently. The move though is not merely to license and regulate international operators, as is generally the case in other jurisdictions.
Instead, what they are planning to do is offer licenses to existing Swiss brick and mortar operators only. They want to get these operators involved and fear that opening this to more experienced international companies like Poker Stars would not permit their home grown gambling companies to be able to successfully compete.
Rules do not currently permit land based operators in Switzerland from offering online gaming and they feel that this has been a disadvantage to them and therefore are looking to turn the tables and keep out the competition under the new proposed scheme.
The downside here may be that in limiting the market to inexperienced operators through these protectionist measures, this may end up being a limiting factor in the success of Swiss regulated poker.
Ongame France May Be Gone Soon
Due to a number of moves in the French regulated market, the days of the Ongame Network in France may be numbered.
Party Poker's new Partypoker.fr setup ended up impacting this, with Bwin.fr set to leave Ongame soon and move over to the Partypoker.fr network, a move that is only natural since they are both owned by the same company.
Europoker.fr recently announced they will be leaving Ongame France as well, and moving over to iPoker.fr. Ongame.fr is still around, but we may wonder for how much longer.
Full Tilt Poker Runs "Rush Week" Promotion
Full Tilt Poker, once pretty much left for dead in the aftermath of the Black Friday events, resulting in the unthinkable fate of seeing their poker room shut down completely with hundreds of millions of dollars left owing to players, has made a fairly impressive comeback since their rebirth under the ownership of Rational Enterprises.
In spite of these days only being a shadow of their former selves, a shadow that is dwarfed by their once fierce rivals Poker Stars, who now own them, Full Tilt still operates with quite a bit of pride, and among the things they are proud of is their innovation of Rush Poker.
Rush Poker ended up eventually being imitated by just about every poker site out there, including their big brother Poker Stars, but it is still the original, and remains one of the most popular and successful forms of fast poker out there.
To commemorate this, Full Tilt has implemented Rush Poker week, to look to capitalize a bit more on the success of this format. So until August 24, players can earn up to $250 in bonus money for opting in to this variation of poker from their accounts.
So in spite of their looking to boost things up with the addition of casino games and their soon to be released sports betting, in addition to their dropping poker from their name and now being known as simply Full Tilt, they are not completely forgetting their roots and that is clearly in offering poker.