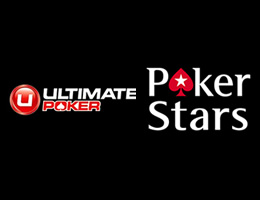 Online poker
Overall poker traffic increased this week for the third week in a row, this time posting a gain of 1% overall, following up on last week's 3% gain. Advancers led decliners this week by a 6-4 margin. The market is now down 14% over the numbers it put in this week last year, an improvement over the 15% difference we were at last week.
Adjarabet has finally dropped down closer to where it is expected to be longer term after a very impressive run stimulated by a huge promotion that they have been running lately. They dropped from third to fourth last week, and now are down all the way to eighth. It was too much to expect that they would be able to stay in the top 5 for much longer, and their even getting there in the first place was pretty impressive in itself.
To get an idea of how influential their recent promotion was, when it finally came to an end on Sunday, within 20 minutes their traffic dropped by half. At the current rate they may even be out of the top 10 by next week, and this may end up being just a temporary thing and may not add the longer term boost that was hoped.
Ultimate Poker Nevada Closes Its Doors
The Nevada online poker market, the first regulated market in the United States, has been a battle between two poker rooms all along, WSOP Nevada and Ultimate Poker. Ultimate Poker folded its hand this week, leaving WSOP as the only poker room left standing to satisfy the needs of Nevada residents intent on playing poker online.
Ultimate Poker officials cited high operating costs and complained that the state by state method of regulation was providing too much of a challenge to manage economically. This is all the more the case in a state as small as Nevada, which is likely too small to support more than one poker room.
We're down to that now and survivor WSOP Nevada, which has been the market leader for quite some time now, will profit from this. They now sit at an average of 130 cash game players, equal to WSOP New Jersey and only now 10 players away from the overall leader in the U.S. market, Party Borgata.
PokerStars Continues To Move Up In Spite of Discontent
PokerStars has been in the news lately about their rake increases and the unhappiness of a lot of their players about it. PokerStars does seem to know what they are doing though, and not only is this issue not causing them to lose traffic, are actually adding to their cash player base in the face of this.
We mentioned last week that we would be keeping a close eye on PokerStars' average cash game traffic, which last week remained at 18,500, maintaining the level of the previous week. This week though they actually bumped this up to 19,500, an increase of 1000 players on average. 1000 cash game players is pretty significant as that amount alone almost gets you into the top 10. Number 10 site Pokerstars.es only averages 1100 players for instance.
However, PokerStars is conducting another large tournament promotion this week, their Billionth Tournament Carnival, and this likely will draw a significant portion of their cash game traffic away from the cash tables, so don't be surprised if they drop back down on the cash side next week.
PokerStars Suffers Tournament Outage
Normally very reliable PokerStars underwent a significant outage on Nov. 18 which saw many players get booted from tournament tables and unable to rejoin the play.
Not all tournament players were affected and players who remained commented that about half the field was sitting out. Players were getting error messages suggesting that this was a problem with their ISP but PokerStars admitted it was due to a technical problem on their end.
A lot of players were up in arms about the amount of time that it took PokerStars to even inform players of the outage, which was said to be over an hour.
Poker Players Warned To Be On High Alert
The Poker Players Alliance in the United States is warning players about the risk they feel about the possibility of anti poker legislation being passed by Congress during the so called lame duck session that is upcoming.
There is also concern that the Republican Party having a majority in both the House and the Senate may make it more likely that such legislation will find more favor in the upcoming regular session as well.
Republicans as a whole tend to be more conservative and therefore more opposed to gambling in general. Sheldon Adelson, the casino magnate that has said that he will spend whatever it takes to rid the country of online gambling, is said to have supported quite a few politicians during the recent election with the sole purpose of influencing this legislation, and that he may come calling to collect.
In spite of this though, the word on the street is that this is still not very likely to pass, so these warnings may be premature, but this situation does still bear paying attention to.