Unibet is a very popular online gambling company that offers players the ability to bet on sports, play casino games, and of course play poker online. The Unibet online poker room is a standalone poker room. There are always enough players online to allow players to choose between a wide variety of cash games and tournaments, all of which with a very soft repuation of competition. New Unibet online poker players can receive up to €500 for making an initial deposit at Unibet. Unibet is a very reputable company with a strong reputation within the online gambling industry. At Unibet you will never get bored, even if want a break from the poker tables, because Unibet offers sports betting, casino, bingo and skill based games, in addition to their popular online poker room.
1. Register a Unibet Account
Unibet is different from most other online poker rooms in that they ask you to register a Unibet account prior to downloading the online poker software. Click here to visit the Unibet Poker website. Once there select which bonus you would want if you decide to deposit onto the site (the bigger bonuses have more difficult clearing requirements).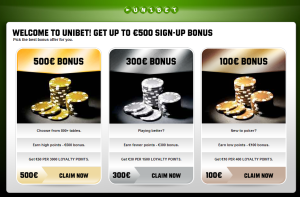 After you click on one of the bonuses you will be taken to the account registration page, where you must fill out a registration form to proceed.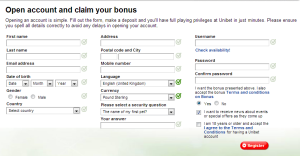 After creating your account you will be taken to a deposit page. You don't have to deposit now though. You can instead click on the 'Poker' link in the top navigation bar to go to the Unibet Poker page. Once there you should click on 'Get Started' in the 'Play Poker' box as shown below.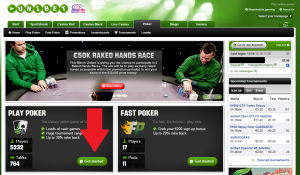 2. Create a Unibet Alias
You should now be at a step page and #1 (create an account) should be checked off. #2 is to create a poker Alias. Click on 'Create alias' and enter what you want your name to be at the poker tables. Create the alias and move on to step 3.
>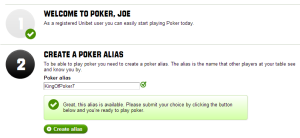 3. Download
Step #3 on the page indicates that you should download the software to get the full version. So go ahead and click on the 'Download the software' button as shown below.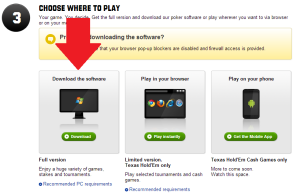 4. Install
Now go ahead and run the Unibet.exe file that you just downloaded. Click the big 'Install' button, but make sure you select the language you want and understand that by clicking the button you accept Unibet's terms and conditions.
After the installation is complete click on 'Launch Poker Room' in the bottom right corner to open the Unibet Poker software.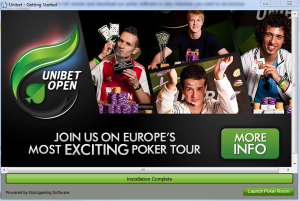 5. Play
You are now ready to play online at Unibet Poker! After launching the software enter your Unibet username and password to login to your account and hit the tables!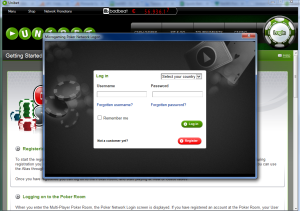 Ready to play? Visit Unibet.com now and follow the instructions outlined above to open an account and download Unibet Poker.