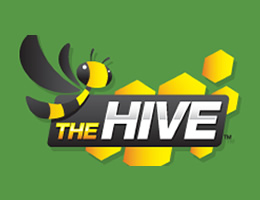 View From The Sky
Online poker traffic as a whole fell by 3% last week, during a period where overall traffic is traditionally at its highest peak of the year. However, it is only down 9% from this time last year as opposed to the 13% that it was off the mark year over year last week, so that's at least some encouraging news. Much of the top 10 rankings in poker rooms remained unchanged, with the notable exception of Pokerstars.es, which cracked the top 10 and in fact moved up to 7th place. MPN dropped out of the top 10 to make room for them.
The Hive Is Buzzing
The Hive, a fairly new poker network to the scene, is really starting to make an impression on the poker world, and has now made it all the way up to 14th place in the worldwide online poker site rankings. The Hive has only been in operation for 8 months now, and although it's billed as a network, only has one poker site on it at present, PlanetWin365. Several more skins, including Yachting Poker, will be launching on The Hive Poker Network within a couple months time. This is a place to really keep an eye on given their degree of success so far, and if and when they do add more sites, it can only add to their popularity.
iPoker Continues Their Recent Comeback
In spite of being down 2% in traffic over last week's results, in comparison with the 3% that online poker traffic has been down overall, iPoker continues their surge of sorts by outperforming the market once again this week. This is in spite of the cash game traffic that they have had move over to their ongoing sit and go promotion. They also had a cash game player daily peak this week over 4000 players, the second highest reported in the industry over this period.
NJ Market Hits An All Time High
Rumors of the NJ online poker market having peaked already seem to be off the mark at least at this point. The state's traffic levels hit an all time high this week, in spite of a poor performance on Valentine's day where players presumably found other things to do besides play online poker. Even so, the growth there has really slowed down and while they are still outperforming the overall market, the bigger sites are starting to show signs of stagnation. We'll have to see if some additional promotion can get things really growing again there.
Louisiana Governor Opposes Online Poker In The State
Louisiana governor Bobby Jindal spoke out against the chances of his state offering online poker anytime soon. In particular, he criticized it for being predatory to the poor. This does seem to be odd considering that Louisiana offers an extensive network of video poker machines spread across the state with obscene markups like paying out only 50 percent of the proceeds back to players. If anything, online poker would be predatory to this very predatory money grab that his state is extracting from their gamblers through their video gambling machines. This gambling is highly taxed and there's no question that it's much more lucrative to the state than online poker would be. What's fair or right though isn't really a consideration though it seems.
Land Based Gambling Out In Full Force
It's no secret that there is a lot of opposition among land based casinos to online gambling, as they often see this as a threat to the huge profits that they enjoy. So they of course form lobby groups looking to discredit the online industry, which generally just ends up in an exercise in ridiculous fear mongering. Such was the case with the recent statement by the Coalition to Stop Internet Gambling, founded and bankrolled by notorious Las Vegas casino owner Sheldon Adelson. There is much talk about how disreputable online gaming companies are, and in particular, the risk that these companies will engage in significant money laundering for terrorist organizations such as Al Qaeda, and perhaps even have a hand in more 9/11 style attacks. This is of course completely ridiculous and shows the extent that these groups will go to in order to in order to advance their propaganda. While those in the know will find this laughable, the industry needs to be doing more to promote a better understanding lest more people become sucked in by these lies.