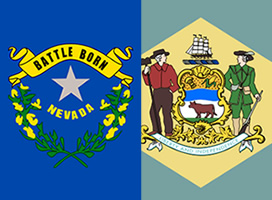 View From The Sky
Online poker in France continues to outperform the market, led by Winamax.fr, which continues its climb up the rankings and is now up to 4th place overall, riding the wave of its billionth hand promotion. PokerStars.fr is now in 12th place, with PartyPoker.fr in 15th. Much further down the list if Ongame.fr in 30th and PRK.fr in 51st, however both of these sites have almost as many cash players as their bigger main sites catering to the rest of the world, showing clearly that the regulated online poker in France is certainly alive and kicking. Georgian based online poker room Adjarabet is now just outside the top 10 in 11th place. Poker is said to be pretty big in Georgia and the success of this poker room over the last few months has backed it up. Adjarabet also contributes traffic to the 10th place MPN network as well which shows up in the stats there, a network they may indeed pass in the rankings soon.
Nevada And Delaware Look To Team Up
People have speculated about the potential and possibility of states sharing online poker players, and it looks like something may finally happen on this front soon. Nevada in particular has been outspoken about looking to cross state lines with their poker offerings, and given the relatively small size of their state, it is something they certainly need to be looking at. So they have now teamed up with Delaware with plans on looking to add other states to the network as time goes on and interest in this grows. The two states will manage their own player base as they do now, with the difference being that the player base will be combined similar to how poker networks do it. This is great news for the U.S. online poker industry in general as it sets the stage for what is really a necessary step in looking to provide the type of player pools that poker sites require to thrive, especially those based in the smaller states such as these two. There are certainly some big wrinkles that need to be ironed out, such as the problem of some of the poker rooms only operating on one state, but it's certainly a step in the right direction.
U.S. FTP Players To Finally Cash Our Soon
After almost 3 years of waiting to get the poker money that has been frozen, the wait seems to be almost over for American online poker players waiting to get their money back from Full Tilt Poker. Some players have now received emails stating that their payments are now pending and to expect to receive them deposited into their bank account within the next week or so by the Garden City Group, the company handling this distribution. This is just the first round though and not all players are included in this current payout, and more rounds are scheduled. This round alone is set to pay out $82 million in funds to poker players, so it is a massive shot in the arm to American poker. Players who have not already put in their claim for their funds can still do so through this company.
Poker Stars Looks To Control The Rats
Ratholing, the practice of players leaving tables and then sitting back down with smaller stacks, has been something that poker rooms and players alike have been concerned with, especially the poker rooms who see this practice as negatively affecting their potential rake. With money being taken off the table, many players are not particularly fond of this practice either, especially when it's their money which they were hoping to win back going down the rathole so to speak. Players often can't sit down again at the same table with a smaller stack, but they can sit at a similar table. A petition was even started at Poker Stars begging them to deal with this, and they finally are going to be doing something about it. The solution isn't perfect, as it only looks to control players who pull out and then buy in again for less than the maximum, but it is certainly a big improvement.