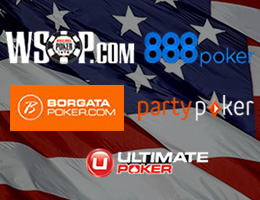 View From The Sky
Worldwide online poker traffic is down a further 3% this week, adding to the 4% loss last week and making this the 6th consecutive week the market has declined. The market is down 14% from this time last year.
Adjarabet edged out Pokerstars.fr to move into the top 10 in rankings. The French market as a whole took a step back, led my another decline by Winimax.fr, who is now down a total of 17% from its peak in February. Pokerstars.fr is down even further since then though, shedding 19% of its traffic. The French market as a whole is off by 10% during this period.
Countdown To 30 Million
Party Borgata continues on with its 25th million hand promotion, where each millionth hand between 25 and 30 is being recognized and rewarded. After seeing some very nice spikes in conjunction with the 25th million hand, the 26th million has come and gone with much less fanfare.
The main focus though is now on the 30th million one, which will culminate the promotion and will involve a payout 10 times larger than the other milestones, which should give them a nice, although temporary shot in the arm. The hope is that this added fanfare will attract more players to their site on a longer term basis though.
U.S. Gambling Revenue Forecasts Come Down To Earth More
The reality of the less than expected results from Nevada, New Jersey, and Delaware, as well as other concerns have caused Wall St. investment bank Morgan Stanley to revise its 2017 forecasts for the U.S. online gambling market from $5 billion down to $3.5 billion. The bank still remains very optimistic about this market's growth though, and projects that it will grow to $8 million by 2020, although that's down from its prior estimate of $9.3 billion.
They expect California, Illinois, Colorado, Louisiana, Massachusetts, Mississippi, and Ohio to soon join the current lineup of states now offering regulated internet gambling. As more states join in, this will give us a much better idea of what the potential here truly may be.
New Jersey Sets Their Sites Further
Although the New Jersey online market has seen some modest success so far, with 250,000 players having opened accounts already, and a projected forecast of $200 million in revenues this year, lawmakers in the state are casting their eyes beyond the state's borders in a quest to look to expand the operation.
A bill has now been introduced in the state legislature that would seek to allow NJ operators to enter into compacts with other states and even other countries, in an effort to expand the reach of the current operation and in particular to improve the size of the potential player pool. Should this become a reality, this could be a real game changer. Nevada has been looking to pursue this sort of expansion as well, but the potential is considerably greater with New Jersey given their significantly larger current operation.
William Hill Pulls The Rug Out
In a surprising move, with no prior warning, bookmaker William Hill has decided to withdraw from a total of 55 countries, citing regulatory reasons. The exit is pretty well dispersed worldwide, involving countries from Africa, Asia, South America, and the Middle East. This is in addition to the 28 countries that William Hill had previously ceased to serve. While most of their operations center around sports betting, they also operate a poker room on the iPoker Network.
Lock Poker's Demise
Lock Poker was not that long ago one of the most successful U.S. facing online poker rooms. They had recruited an impressive stable of online pros and they were billing themselves as a real player's poker room. Their rise was pretty dramatic, going from a startup poker room to soon running their own network and becoming a major player in the business. Sometimes though the quicker you rise, the harder you fall.
Real players like to get paid though, especially poker pros who derive their income from these withdrawals, and once the delays started getting excessive, things started to go into a real tailspin. Soon players were selling their money there at a discount, as evidence in the loss of faith in the company. This is always a bad sign. The withdrawal times went from horrible to ridiculous, even taking up to a full year in some cases.
Lock Poker is now a small shadow of their former self, and there are some important lessons that have been left behind in the wake. Take care of your players, or else.