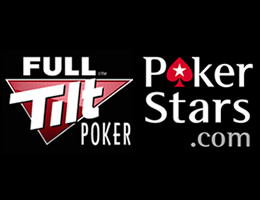 View From The Sky
Online poker traffic worldwide continues to drop, this week seeing it decline by 4%, a significant amount. Some feel that the higher than seasonal temperatures across Europe may have had something to do with the larger than normal decrease, as many people may have spent more time outdoors enjoying the break from the winter weather instead of remaining inside and playing online poker. This is the fifth week that the market has seen a decline in traffic, and the eighth week out of the last 9. Of the top 10 sites, 9 of them declined. Online poker traffic is down 14% from this time last year, a number to keep an eye on since it does indicate a bigger trend than just a weekly number.
The top 10 rankings remained unchanged over last week with the exception of Winamax.fr, who dropped another spot to ninth, giving up the eighth spot to Bodog. Bodog's rise lately has been impressive, and it may not be over yet. This has now placed them in a dominant position among U.S. friendly online poker rooms, with over half the traffic, and this has allowed them to create some real momentum here which continues.
NJ Market Continues To Decline Overall
With the exception of Party Borgata, the New Jersey online poker market continued its decline this week. Party Borgata was helped by its current promotion which saw its 25th million hand being dealt over the weekend. This promotion continues with several other milestone hand prizes to be awarded soon. They are also running some tournament promotions which likely is helping their cash game traffic as well.
Given the relative newness of regulated online poker in NJ, it is a little disappointing to see the state peak so soon, but it's not entirely unexpected. Some of the poker rooms, Party Borgata in particular, have been more than willing to answer the call, but more needs to be done if they expect to grow the market beyond what has already been accomplished, which is pretty modest indeed by anyone's standards.
Full Tilt Poker A Shadow Of Its Old Self
It's good news that Full Tilt Poker is alive and kicking given the massive troubles they have, and they certainly have been resurrected under the ownership of the people at Poker Stars. It really wasn't that long ago though that they were the second most popular poker room in the world by a huge margin, back when they still let Americans play there. While Poker Stars has managed to increase their dominance of the worldwide online poker market in spite of exiting the U.S. market, the new version of FTP has had a lot less success.
Full Tilt now sees themselves in 5th place, behind Poker Stars, 888, iPoker, and Party Poker. We remember back when 888, or Pacific as it was known then, was far smaller than Full Tilt, an offbeat poker room in fact compared to a massive one. Times have really changed though.
Full Tilt has been known for its aggressiveness in the past with promoting their poker room, but these days they just seem content to tread water and hope that their decline will come to an end at some point. It's not that Full Tilt is totally sitting by idly though and they have just come out with a new format called Flipout Tournaments, which puts all players all in early in the tournament, to look to better disperse the skill level later in the tournament closer to what you normally see earlier. We'll see how well this catches on.
Poker Stars Eyeing California
The struggle to move to get online poker regulated in California continues, with the latest twist being with Poker Stars teaming up with one of the Indian tribes there to look to help to get a deal done.
One of the stumbling blocks for Poker Stars is the possibility of a so called bad actor clause being written into the law there which would preclude the involvement of poker rooms such as Poker Stars because of their involvement in allegedly ignoring U.S. law in the past, in particular the UIGEA. In a sense this is seen by some as making something legal then allowing former gangsters to get involved in it. Poker Stars has been kept out of the New Jersey market pretty much by the same reasoning. They aren't put off so easily though and are expected to persevere in order to try to gain a foothold in either or both of these states.
California is potentially much more lucrative than New Jersey though, or any other state for that matter, so they may fight even harder for this one. With Poker Stars' expertise, they certainly should be a welcome addition if these states can let bygones be bygones.