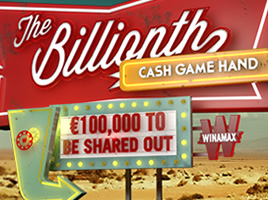 View From The Sky
Online poker traffic overall experienced a drop for the third consecutive week, although this week the decline was only by a half a percentage point, so this isn't particularly meaningful. Year over year we are behind by 15% over the numbers a year ago, which is of course more significant and an indication that things need to pick up a bit to get back to historical levels.
The week that this is being compared to last year did involve a significant promotion from PokerStars though, which out of their sheer size does influence the overall market quite a bit, so that number may seem worse than it actually is.
Adjarabet is back in the top 10 again, wrestling away this position from Pokerstars.fr who dropped back to 11th. The French market still looks strong though relatively speaking, and in particular some of the so called smaller sites' French offering such as Partypoker.fr and iPoker.fr continue to build momentum.
Winamax Billionth Hand
Winamax has been running their billionth hand promotion lately, which has been very successful for them in terms of stimulating traffic on their site. This caused traffic to spike very well during the conclusion of the event, and once the billionth hand was reached, they actually had to extend things by a million more hands to give away all the prize money they promised with this. Winamax peaked at 4th place in the world poker traffic rankings with this promo, and now sit in 6th place with the billion hands deal now over, and will likely drop a couple more spots as the hype settles down some more from this. We'll have to see if they can prove the skeptics wrong though and show that they have the staying power to keep at least some of the gains they have made lately.
Has The U.S. Market Hit The Wall (For Now)?
The American online poker market continues to remain pretty stagnant lately. Nevada and Delaware peaked early in the game, and now New Jersey appears to have done so as well. Poker sites running in NJ declined overall once again this week, moving further away from the apparent peak realized in January. Overall U.S. online poker traffic numbers declined as well once again. With only three states involved so far and only one of any significant size, the surface has only been scratched so far, although the relative lack of success of online poker in these states so far should give pause to the kind of pie in the sky dreams of windfalls that state legislators tend to have.
Poker Stars Still Struggling To Control The Rats
Poker Stars' ongoing war with controlling ratholers, or players who take money off the table by sitting out and then sitting back in with much lesser amounts, hasn't been resolved quite yet. In spite of their finally rolling out a solution to this problem a few days ago, technical problems were encountered and finally getting this fixed to a reasonable degree has been delayed once again. These changes, once fully implemented, will limit the number of times players can pull these moves at the tables. While this is something that will benefit Poker Stars' rake, most players support the change as well, although we'll all have to wait at least a bit longer to see it made a reality.
Mobile Gaming Expected To Grow
With so many people having smart phones these days, and with mobile applications in general exploding over the last few years, it's no surprise that mobile gaming has taken off right with it. Online gambling on the go has certainly grown a lot lately and will very likely continue to do so. This format seems to be much more suited to casino gaming than poker, especially the very popular online slots which drive the online casino business anyway. Mobile poker is a bit more of a challenge though as the smaller screens of phones do not lend themselves as easily to the game, especially among those who like to multi-table, or those who use tracking software, but there still is a significant market out there still untapped. With computer based online poker having pretty much peaked already, mobile poker may end up being the ticket to attracting not only more traffic but a different kind of traffic as well, and a more casual one, with a lot of it expected to come over from the huge play money poker scene. We're seeing more of this now, and will likely continue to do so as more mobile gamers get turned on to the joys of real money online poker.