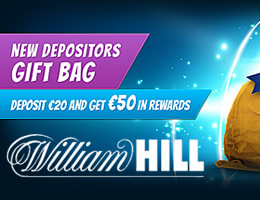 William Hill's top ranked poker site has some great news for players who have never made a deposit to their poker room before. If this is you, then you are in for a real treat.
Many poker sites offer new depositors a bonus amount equal to their first deposit. So if your first deposit is $100 then the poker site gives you $100 in bonus money.
Getting paid to try out a new poker site sure beats not getting paid, but the standard fare isn't good enough for William Hill who want to make sure that you are tempted to the point where this becomes an absolute no-brainer. So instead of just getting the normal $100 in bonus money for a first deposit of $100, William Hill goes bigger and gives you $200 instead, which is twice as much. So they are twice as generous and also twice as confident you're going to love their poker site.
You can go bigger or smaller than this depending on how much you can afford to deposit starting out, but it does pay to go bigger, because the more you deposit the more you get paid to try out this top poker room, up to a maximum of L1,200/€1,500/$2,000, depending on the currency you choose to play with.
Then, as you actually play online poker games at William Hill and experience for yourself all of the things they have to offer, your qualifying bonus amount gets released to you in increments, until you have received the entire amount. They also give you a full 90 days to redeem it all, which is more time than a lot of other poker sites tend to provide, because they want to make sure that even less active players get rewarded very well in their first experience with William Hill.
While this is more than enough to make you want to try them out, they also offer a few other goodies in your new depositors gift bag. In addition to the poker bonus, there's also another bonus for playing their casino games, so poker players who also like casino will find there's even more free money available.
William Hill also give you a free entry into their New Depositors Gift Palooza tournament, where you can win an assortment of nice gifts including an Xbox One or PlayStation.
As an added bonus, new depositors also get 1,000 Club bonus points, which you can use to enter even more tournaments for free, ones that don't cost you anything to play but pay real money out as prizes.
So there are lots of good reasons to give William Hill Poker a try. Click here right now to cash in on all this free money.