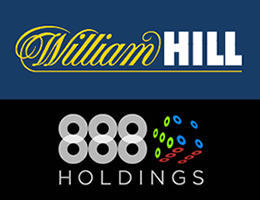 Online Poker
The online poker market rebounded from it's 1% loss this week to put in a 2% gain this week. This move continues the general trend upward that we've now seen over the past 5 weeks, aside from last week's drop which has been more than made up for.
7 out of the top 10 online poker sites increased their cash game traffic this week, with 2 seeing a decline and 1 experiencing no change. Compared to a year ago, the overall number is only off 13%, compared to 14% last week.
The top 10 rankings remained the same other than Full Tilt moving up from sixth to fifth spot, trading spots with Pokerstars.it and sending them down from fifth to sixth. PokerStars has reaffirmed its place as the king of online poker. PokerStars boasts more cash-game players than the next 10 most popular poker sites/networks combined including 888poker, iPoker and Party Poker.
William Hill Makes Offer To Acquire 888
U.K. bookmaker and online gambling operator William Hill has made a bid to acquire 888 Holdings.
William Hill's current offer is 210 pence per share, amounting to over a billion dollars, and considerably more than 888's shares were valued at the time, which was around 140 pence per share.
The news did cause 888's shares to trade as high as 185 pence per share before settling in at around 170 pence, which is still a significant increase. Rumor has it that 888's principal owners in Israel may be holding out for 300 pence a share, which seems unlikely, although the companies may end up settling for something in between.
It is hard to say what effect this deal would have on 888's poker operations, if any, and they certainly have carved out for themselves a fairly unique poker site which has become the second most popular site in the world, in addition to their having the world's most successful online casino for many years running.
William Hill on the other hand aren't known for their poker prowess and although they do have a skin on the iPoker Network, 888's poker offering is bigger than all of the iPoker sites combined, and there may be some concerns that their running a bigger show like this might be more than they can handle.
French Market Continues To Look Positive
We had reported on the resurgence of the French regulated poker market last week, speculating that this market is set to grow even more, and this week all 4 major sites posted a gain, with market leader Winimax.fr moving from 1200 to 1250, Pokerstars.fr growing from 950 to 1050, Partypoker.fr increasing from 600 to 650, and iPoker.fr going from 550 to 600.
So this may just be indicative of a good week for the French online poker scene, or it might be due to the market improving, we'll have to see how this plays out over time, but it does bear watching. Combined, the four sites now sit at an average cash game player count of 3550 for the 4 major French sites, and we'll use that number as a reference to see how things go moving forward.