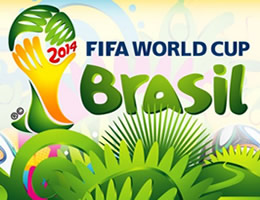 View From The Sky
Worldwide online poker traffic was down a further 2% this week, bringing the current slide down to a total of 11% over 4 consecutive weeks. 7 out of the 10 top sites lost ground this week. The market is down 14% over this time last year.
Pokerstars.es moved up from eighth to sixth place, trading places with Pokerstars.it who replaced them in eighth. Adjarabet climbed back into tenth place, knocking Pokerstars.fr out of the top ten for now. The rest of the top 10 rankings were unchanged.
World Cup Fever Impacts Online Poker
The World Cup is the most watched sporting event in the world, and the huge amount of viewers does include a lot of online poker players, especially in certain countries. With the World Cup in full swing, there have been some noticeable drops in online poker traffic, especially during key matches.
For instance, during the recent match between Germany and Portugal, traffic dipped to 25% below normal levels at some online poker sites, including market leader Poker Stars. Matches involving Russia also have had a big impact on the numbers as well. Games involving countries without much of an online poker presence haven't affected things much though.
USA Based Poker Sites Holding Up Well
In Nevada, WSOP fever is taking preference over any World Cup fever that may be present in the state, with WSOP.com still managing to perform fairly well, only losing 1% this week.
New Jersey poker sites also posted a pretty stable week as well, with leader Party Borgata only experiencing a small decline, and holding on to their slim lead over WSOP Nevada in the race for the biggest poker site in the USA.
WSOP New Jersey also saw a small reduction in their numbers, while the All American Poker Network, which has been beaten up pretty badly lately, actually saw a small increase, as did Ultimate Poker. So things may be leveling off in the state, for now anyway.
Online Poker Expands Into Northern Nevada
Peppermill Resorts, which operates several casinos in Northern Nevada, has entered the online poker scene, teaming up with Las Vegas based Ultimate Poker to start offering their players the ability to play online. Players must visit one of Peppermill's five casinos to make a deposit in person before they can play online at their site, so this looks like it is designed to drive live gambling more than online play.
Not all Northern Nevada gaming operators are ready to jump on the bandwagon though, as Reno casino Atlantis has expressed their desire to stay out of the online poker business, claiming that it is socially irresponsible to allow such wide open gaming.
It is certainly odd that a casino operator would claim that playing poker is morally objectionable, while they have no issues with raking in millions from live players, however that's their position. We don't think the Nevada poker market will be any worse off though for it as anyone who wishes to play can find ample opportunities without the Atlantis involved.
Will Bodog Remain As Aggressive In The U.S. Market?
Bodog has risen very nicely up the ranks as of late, and have managed to stay in the top 10 for quite some time now, and have sit solidly in seventh place for a lot of weeks lately. Much of this increase has been driven by the success of Bovada, which serves players in the U.S., and Bovada has become the poker room of choice among U.S. online poker players.
However, there is some concerns that with this success may come some additional pressure from U.S. authorities. Already we are seeing authorities in New Jersey put pressure on affiliates to stop promoting offshore sites, and of course Bodog is a prime target here, given that it is by far the largest of these offshore poker sites offering play to Americans.
This likely won't have a big impact on things either way, but we may wonder whether or not there is a desire to go after Bodog generally, or whether Bodog may be worried about this enough to even stop taking new players from the United States, or to further restrict the states where they accept players from.
If this became the case, this would certainly impact their traffic, which is to a large degree reliant on a steady influx of U.S. based players. This is still the largest potential online poker market in the world and while the market penetration right now is only a shadow of what it once was, Bovada had been making some good progress in restoring that to a greater degree.
This is all speculation right now of course but this might be worth watching as things unfold.