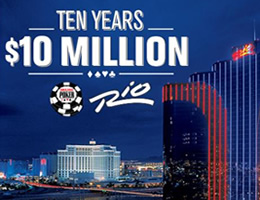 View From The Sky
Online poker traffic as a whole dropped 2% this week, losing back 2 of the 3% the market gained last week from PokerStars' big promotion that has now ended. PokerStars does drive the overall numbers quite a bit, being so large, and it was expected that the ending of this promotion would drive numbers back to where they were.
On the brighter side, the market is only off by 8% compared to where it was at this time last year, down from the 12% it was last week, a significant improvement. Advancers and decliners among the top 10 sites were split 5-5 this week.
Adjarabet dropped out of the top 10 after making a brief appearance last week, with Winamax.fr and Pokerstars.fr both moving up a spot, to 9th and 10th respectively. Pokerstars.es moved up to 7th from 8th, trading places with Bodog.
New Jersey Market Trades More Punches
Party Borgata and WSOP New Jersey moved closer to each other this week, with WSOP New Jersey gaining 3% and Party Borgata losing 3%. So the two top online poker sites in New Jersey ended up being pretty stable overall, with the gain of one offsetting the loss of the other.
Party Borgata now sits in 37th place on the worldwide traffic rankings chart, with WSOP New Jersey pretty close behind in 40th.
Things are not so stable at the All American Poker Network, who lost a further 10% this week. They are down to 54th place now overall, and the gap between them and the top 2 poker sites in the state continues to widen. Ultimate New Jersey is doing even worse, and they are barely on the map right now with an average of only 4 cash players this week and a peak of only 21.
World Series Of Poker Gets Underway
The 2014 WSOP has now begun in Las Vegas, and naturally Nevada online poker site WSOP is poised to look to cash in on all the excitement. They had a particularly strong showing this week, up a total of 9%.
WSOP Nevada is running several promotions to coincide with the world championship of poker, including offering increased welcome bonuses, and a multi table promotion which is giving away extra cash to players nightly. The impact on their peak traffic has been even more significant, seeing it rise by 17% this week.
In spite of this modest rise in traffic, online poker in Nevada still pales in comparison to the action at the live tables, especially during WSOP season. However this also means that there is a lot of potential for growth in this market as more players become more accustomed and comfortable with playing poker on the internet.
California's Indian Tribes Continue To Face Off
One of the real stumbling blocks of getting online poker regulated in California has been the controversy surrounding whether or not to permit the participation of poker sites that continued to offer online poker to Americans after the UIGEA was enacted in late 2006.
One of the two bills seeks to bar participation from these sites, which essentially is aimed at PokerStars, and the other bill is more lax on considering their possible involvement.
PokerStars has been fighting hard to gain access to the American market and has been shut out so far in the 3 states that have passed regulation allowing for online poker, and they have really dug in their heels in California, which is the most potentially lucrative poker market of all among U.S. states.
Those supporting the bill to bar PokerStars have made it even clearer that this issue is non negotiable and without its inclusion the bill will fail. Many Indian tribes in California support this side of the issue. On the other hand, Poker Stars has put together an impressive assortment of tribes that support them. So the showdown continues and given that the preference is to have all the Indian tribes in California agree, we're still quite a ways away from that happening.
Pennsylvania Online Poker Bill Details Released
The state of Pennsylvania has prepared a bill seeking to regulate online poker in the state. The details of the bill, sponsored by State Senator Edwin Ericson, have now been released.
It will be a poker only bill, with casino games continuing to be offered at land based casinos only. It will allow for interstate compacts, which are agreements between the state and other states to share players, similar to the agreement now in place between Nevada and Delaware.
PokerStars is explicitly being shut out here again as this bill includes a bad actor clause, once again applying to companies remaining in the U.S. market after the UIGEA was passed. Things are moving forward though in Pennsylvania though.