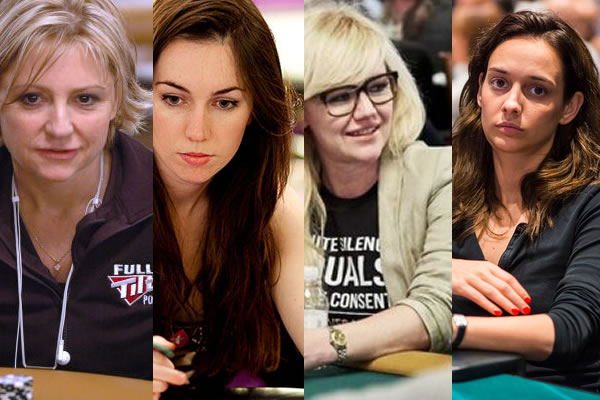 But, thankfully, poker is seeing much more success from its female players - as these gifted gamblers demonstrate.
From a historic player to one of the most courageous competitors in the industry, these are four female poker players who are making waves that would make The Perfect Storm shudder.
Jennifer Harman
She's one of only two women to win two World Series of Poker (WSOP) bracelets, has 12 final table appearances, and has scored 32 money finishes, it's fair to say that Jennifer Harman is making wages with her poker performances.
An early starter in poker, Harman has been playing competitive poker since she was just 16 - as OnlineCasinos.co.uk's Jennifer Harman player profile explains, she used a fake ID to play in tournaments.
Her success is such that in addition to her bracelets, she's made a huge amount of money from her poker exploits - her $2,765,348 in career winnings puts her 12th on the all-time women's money list.
Veronica Brill
Veronica Brill is a gifted poker player, with skills far ahead of almost everyone that decides to try their hand at the game. But it's not her talent that's making waves in the poker world, it's her bravery.
Brill was the first person to publicly raise the issue of Mike Postle cheating during his Stones Live Poker performances - Postle is alleged to have been receiving inside advice from the organisers of Stones that told him the hands of his opponents.
The result of Brill speaking up about Postle was that she was exposed to some vile abuse on Twitter.
Despite the negative attention she received, Brill continues to speak out against Postle and has some high profile supporters in her corner - Joey Ingram and Doug Polk being chief among these.
Liv Boeree
Liv Boeree has a first-class degree in astrophysics and she's put her appreciation of time and space into good practice - she's the only female player in poker history to win both an EPT event and a WSOP bracelet.
Boeree's skills were developed after winning one of the best poker educations anyone could hope for - in 2005 she featured as one of five contestants on the poker reality show Ultimatepoker.com Showdown, getting coaching from poker legends like Phil Hellmuth.
While titles are super important in poker, we shouldn't forget that success is also measured in how much money players make - and Boeree has made lots of it. Currently, she has career winnings of $3,852,996, putting her 7th on the all-time women's money list.
Marle Cordeiro
Few players and influencers have caused quite the stir Marle Cordeiro has in the poker world - some commentators have gone as far as calling her the most controversial vlogger in poker, which is quite the wave to make.
The controversy around Cordeiro concerns the amorous nature of her vlog. For example, one of her videos, Looking For A Poker Boyfriend, pokes fun at the idea of women still being seen as objects in poker - many involved in the industry didn't look kindly on this truth.
Cordeiro has been subjected to some horrific criticism, but she has many fans who both get her comedy and appreciate the accuracy of her satire - her 28.5K YouTube followers are a testament to this.
So, while she's yet to earn serious money from her poker playing, Cordeiro's commentary makes her a huge success.
Recommended reading: Making Money At Poker
Jennifer Harman, Veronica Brill, Live Boeree, and Marle Cordeiro are all very different poker players and each of them is known for a different reason.
But what's important is that all four of these successful female poker players are making serious waves in the industry.