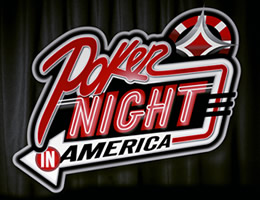 In an effort to bolster its presence in the New Jersey online regulated poker market, in addition to looking to build the overall value of its poker brand in the United States, 888 Poker and its New Jersey based All American Poker Network has entered into an agreement to sponsor a new poker program called Poker Night in America.
The new poker show will be airing on the CBS Sports Network every Sunday night, starting on June 29, and is set to run for 26 consecutive weeks. The goal of "Poker Night In America" is to make poker more fun to watch, and will be looking to move away from the usual fare that these shows generally offer, which is just poker playing with commentary, and add more life and variety to the programming.
The official tag line from the producers is that this show will be "bringing personality back to poker," which is hoped to attract a more casual sort of fan, beyond the harder core poker fanatics that poker programming has historically targeted.
The show will be hosted by Chris Hanson, who promises viewers that he will be taking them "beyond the felt". The show will certainly be delving into the personalities of the players a lot more than you normally see in poker shows, so those who appreciate the more offbeat side of poker play will enjoy this aspect.
"Poker Night In America" will feature both an extensive lineup of poker pros along with a lot of amateurs as well, those with at least $20,000 to stake as well as having "interesting personalities". The show's producers seem to be going all out to make the show as entertaining as they can in fact, and the goal here seems to be more toward making this more of a reality show featuring poker than just another tv poker show. It is expected that this approach will be a big hit with a lot of viewers, combining two formulas that have been proven to be winners over time, the reality show approach and the wide appeal of poker.
"Poker Night In America" will be filmed at several locations around the country, including the Turning Stone Resort in in the Syracuse, NY area, the Peppermill in Reno, the Rivers in Pittsburgh, and Maryland Live! near Baltimore.
With popular shows in the American market such as Poker After Dark and High Stakes Poker having fallen by the wayside, this show may be ready to further tap into the public's appetite and certainly will provide an alternative to the usual World Poker Tour and World Series of Poker programming that you normally see.
The oddest thing about all of this is the role that 888 is playing here, only being in the New Jersey market right now and getting ready to enter Nevada as well very soon, but even so, this is only a couple of states and represents a very small percentage of overall viewers. So it seems that brand building may indeed be behind their role here, which means that they have very big plans for the American market down the road, especially given the very small profit potential that exists right now for them. However that may change, and 888 Poker seems to be banking on it.