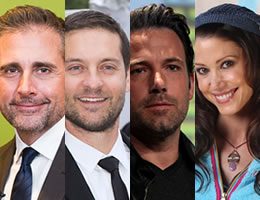 The beauty of poker is that it transverses gender, race, religion, class, and so on. It is a game that anyone can play, and many do. Whether you work on the high street or in Hollywood, the allure of playing poker is certainly prevalent for fans. The sheer volume of Hollywood stars who partake in the game is staggering. But, if you earned the money they did, you would have to put it somewhere.
Steve Carell
American actor Steve Carell shed his comedic acting chops in the recent Foxcatcher movie, in which he was compelling as the primary antagonist John du Pont. It was a role that showed off Carell's superb qualities as an actor, rather than just as a comedic turn. If Carell puts as much focus and determination into his poker play as he does his acting, he'll surely one day be sitting down at a World Series of Poker table. If he can still master the icy glaze that he gave Du Pont, he will scare even established players like Daniel Negreanu. The actor has stated in the past that he has accumulated his wealth from playing online poker rather than acting, and considering how dark Carell was in his last role we are obliged to believe him. Our guess is that he checks casinosonline.ie before playing so he can choose which merciless fool he will be taking money off this time ;)
Tobey Maguire
The actor played the first incarnation of Spider Man - the third incarnation is supposedly just around the corner - as well as appearing in The Great Gatsby, and Fear and Loathing in Las Vegas. But if he was not an actor he could quite easily have been a professional poker player. Maguire has placed money in numerous tournaments and pro player Phil Hellmuth claims the actor has won more than $10m in Hollywood house games. It really is alright for some. However, it should also be noted that Maguire is reported to be a terrible loser, something which really is not cool at the tables. But when you are down by 25k then the odd tantrum is rather understandable.
Ben Affleck
Now, everyone knows Ben Affleck. The good looking actor has appeared in Good Will Hunting, Armageddon, and will soon be playing the role of Batman in the upcoming Batman V. Superman movie, so it's really unfair that he's good at poker. The star won a cool $356,400 at the California State Poker Championship Sunday – that's nearly as much as his awful film Gigli took at the box office! Whenever he is in a country that allows online poker, expect Affleck to have a little flutter online.
Shannon Elizabeth
The actress became instantaneously popular after her role as Nadya in the American Pie films. However don't just think she's a pretty face. She's actually a bit of a poker shark, coming fourth in 2007 NBC National Heads up Championship, where she beat three World Series of Poker multiple bracelet winners.