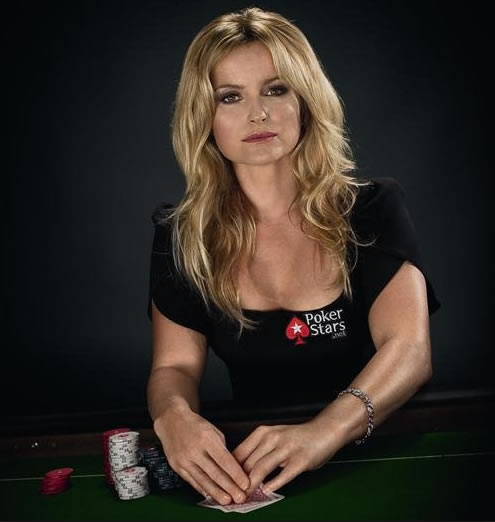 It's not hard to see how one could become easily distracted sitting across a table from famed poker star Fatima Moreira de Melo. As skilled and cunning as she is beautiful, de Melo is, at a minimum, a "triple threat" against her competition. And when you tack on her career as a professional athlete, de Melo stands out as one of the unique personalities in the poker universe.
Although little is known about her early life, de Melo quickly made a name for herself as a women's field hockey star. Though the sport is not hugely popular globally, it's all the rage in de Melo's home country of The Netherlands. As a proficient striker, she quickly gained notoriety while lending her talents to clubs Tempo '34, HGC and the HC Rotterdam. Due to her formidable abilities on the pitch, she eventually earned a spot on the Netherlands women's national field hockey team. After playing in her debut match against Germany on October 21, 1997, she has since acquired 190 caps and scored 34 goals during international competitions.
In 2008, she earned a gold medal as a member of the championship Netherlands women's national field hockey team at the Beijing Olympics. More remarkably, de Melo and her teammates earned medals in all three World Cups in which she participated, including a bronze at the Sydney Olympics in 2000 and a silver medal in Athens in 2004. For her exceptional accomplishments, she was named "Rotterdam Sportswoman of the Year" in 2006. Having achieved almost more than anyone could ask for in her chosen vocation, de Melo finally retired from professional field hockey on January 31, 2009.
However, that is just the beginning of the story. Not only does de Melo have natural athletic abilities, but she has aesthetic gifts as well (to the delight of many), using the latter as a presenter for local and national television programs alike. She has also made many cameos in commercials and other advertisements. De Melo was the winner of the Dutch version of "Survivor," and in December 2006, she became a celebrity spokesperson for Rabobank in their Dutch television ads. She even appeared in multiple episodes of the long-running Dutch soap opera "Onderweg Naar Morgen."
If you've ever laid eyes on her, it will come as no surprise that de Melo has also dabbled in modeling, having posed for the pages of FHM magazine, for example. In fact, the Dutch website Mokkels.nl awarded her the title of "Babe of the Year" in 2007. De Melo has also been known to show off her singing chops, including when she performed the theme song for the International Hockey Federation's International Year of the Youth at the closing of the 2001 Men's World Cup Hockey Qualifier in Edinburgh.
And on top of all that, de Melo also has a beautiful mind. She earned a master's degree in law in 2006, which has perhaps further honed her reasoning and strategy skills for her current life challenge: professional poker. Tennis pro (and boyfriend) Raemon Sluiter introduced her to the game that would once again highlight de Melo as a breakout star and a force to be reckoned with. To the surprise of many, she secured a spot at the final table of the 2009 Amsterdam Master Classics of Poker; she ended up in ninth place and brought home a respectable €32,832 following a €6,000 buy-in. She's earned over $450,000 in cash winnings since her tournament debut back in 2009, highlighted by her second-place finish in the UKIPT Isle of Man tournament in 2013 where she took home $95,750. De Melo has been given the honor and distinction of being named a PokerStars team member. You can find her playing online under the screen name: "FatimaDeMelo."