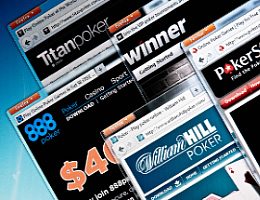 Online Poker
Online poker traffic dropped by 1% this week, and together with the 2% gain last week and the 1% loss the week before, has us pretty even over the last 3 weeks. This time around, among the top 10 sites, gainers and decliners were split evenly, 5-5.
PokerStars has reaffirmed its place as the king of online poker. PokerStars boasts more cash-game players than the next 10 most popular poker sites/networks combined including 888poker, iPoker and Party Poker. Pokerstars.it made some real gains this week though, moving up from sixth place to fourth, passing both Bodog and Full Tilt.
Comparative numbers from this week last year held steady at the 13% decline posted last week. The hope is that we will see this number go down as we go deeper into 2015, turning around what has been a fairly steady decline in the cash game poker market for quite a while, but the recent numbers are at least an improvement, albeit only a slight one.
More Players Don't Always Mean More Profits
In looking at how industry giant PokerStars makes its money, it's not always the case that the most popular games, the ones with the most players, make the most money for a poker site.
The most profitable format for PokerStars is its fast fold poker, for instance, but it's actually not hard to figure out how that could happen, given the sheer amount of hands dealt per hour per player.
In addition, while the micro stake games are the most popular, they also yield the lowest rake per hour, so this is a clear case where player count and profitability do not correspond well at all. Higher stakes games on the other hand have bigger pots and bigger rake and player counts can be a lot less but still yield significantly higher profits to a poker site.
Omaha also tends to be more profitable, at least to PokerStars, than you might expect. In spite of Omaha being far less popular than Hold'em, one of the top 5 revenue generators at Poker Stars is an Omaha game. Omaha is a looser game though and therefore produces larger average pot sizes than Hold'em does though which would explain this.
So with all things being equal, it really comes down to how much rake is generated over a given amount of time with a particular poker format, whether that be per hour or per month or whatever, and while popularity does factor into things, it's only one of several considerations that determine how much revenue a poker format generates.
None of the top 5 most popular games at PokerStars is even in the top 15 games as far as revenue generators, but when you stop and think of it, this isn't all that strange.
Seals With Clubs Gets Clubbed Lately
Seals With Clubs, which uses Bitcoin as their currency, once again experienced some major technical difficulties this week. Due to what company officials are describing as "hardware errors," the poker site was put out of commission last Wednesday, and it's been almost a week now and they are still down. Their website is apologizing for the outage, but after all this time it's likely that a lot of players may have become frustrated enough to just look to withdraw and not come back.
They claim that during the outage we must not lose our sense of humor but players are not finding this amusing at all and many are cashing out. They are processing cash out requests at this time though. We'll have to see how big of a blow this is to the site but it might be a very big one, perhaps even ending up being a fatal one.