Online Poker Academy offers players the highest PKR rakeback percentage allowed by PKR Poker, along with your choice of one of 2 PKR bonuses. Here are your two rakeback options:
Option 1: 30% Rakeback + 125% bonus up to $500
Use PKR Bonus Code "RAKE500" for this option.
With this option you receive the 30% rakeback, as well as the 125% up to $500 bonus.
To qualify for this bonus you must deposit at least $150.
The bonus will be paid into your account in 10% increments at a rate of $1 per 400 PKR points.
Any amount of the bonus that you have not cleared after 60 days will be forfeit.
Option 2: 30% Rakeback + 100% bonus up to $150
Use PKR Bonus Code "RAKE150" for this option.
With this option the bonus is better for casual players because you only have to deposit or more and the clearing rate is $1 per 300 PKR Points.
You will still have 60 days to clear the bonus.
No matter which option you choose your rakeback will be paid into your account by the 10th of the month for the previous months rake.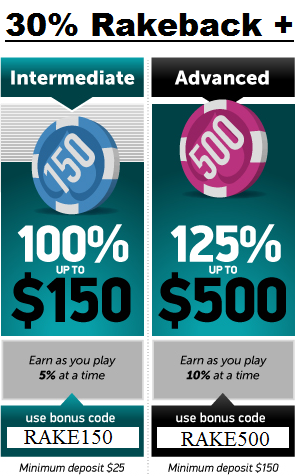 Why Get PKR Rakeback?
There is absolutely no reason not to take advantage of PKR rakeback. You receive 30% of the rake that you pay the poker room back for the life of your account. The rake includes both rake taken from cash games as well as tournament fees. 30% can add up to a lot over time no matter what limits you play. Whether you are a small stake or high stake player you should still take advantage of this PKR rakeback offer. The only reason not every online poker player has signed up for a rakeback account is simply because they don't know rakeback exists. Since you have come to this site you are in on the little secret of online poker and you can collect your basically free money back from your PKR Poker play.
Why Sign Up for PKR Rakeback Through Us?
You should sign up for PKR rakeback using one of the bonus codes listed above because we are getting you both the highest possible PKR rakeback percentage and the best PKR bonuses. We also provide great customer service and will work with you to provide you the best possible PKR Poker experience you can have. If you have any questions or concerns you can email us.
How Do I Get PKR Rakeback?
Signing up for PKR rakeback is simple. All you need to do is enter either "RAKE500" or "RAKE150" (depending on what bonus you want) in the PKR bonus code field when making your initial deposit. Then you will be signed up for a rakeback account and you will receive rakeback into your account by the 10th of every month.