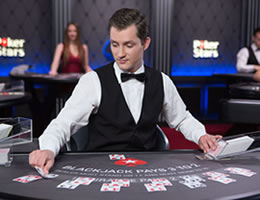 PokerStars, not long ago one of the very few holdouts in just offering poker, has recently announced that it will be offering live dealer casino games as part of its services to its players.
While the feeling all along has been that the much more poker centric crowd at PokerStars probably wouldn't be that interested in casino games, getting bought by a casino company certainly has a way of changing things, and to be honest, with the huge player base that PokerStars has, it really only makes sense to at least try to see whether casino games would be popular enough here, something that wasn't even tried in the past.
So now PokerStars players now will not only have the ability to play casino games but can now play them in the live dealer format, one that has proven fairly popular at casino sites generally.
For those who enjoy casino games, the live dealer format gets them as close to a real casino as you can get, with real time dealing being transmitted to players by way of a video feed.
Through a partnership with Evolution Gaming, a leader in this technology, PokerStars players can now play live blackjack, roulette, baccarat, and even live Hold'em. They are even offering what's called "Immersive Lite Roulette", which offers not only camera angles of the tables but other camera shots as well to bring even more realism to live casino play.
Sam Hobcraft, the Director of Casino at PokerStars, said "Live dealer games appeal to a broad array of players who enjoy the added level of authenticity and trust that comes from seeing the action occur in the analogue world. Players will enjoy the convenience of playing poker, casino, and live casino games in the same place, with the same protection of player funds, the same fast payment processing, and the same trust that they have come to expect from PokerStars."
Amaya Gaming first launched live casino play on Full Tilt a while back, and then tested the format on the Spanish PokerStars site, and are now ready to roll it out to the main PokerStars site as well, including Pokerstars.uk, which is actually a skin of the main site as well.
PokerStars does have a dedicated casino floor set up in Latvia for the live end of things though so they are going all in with this idea, and therefore it will be interesting to see how popular this ends up being but it probably will deliver a good amount of extra profit to the company which is healthy for the poker industry as well.