There is a lot of hype surrounding Las Vegas and for great reasons. The hot weather, the cool casinos, with bars, clubs and attractions galore, Las Vegas is certainly the ideal spot to visit for any tourist. Las Vegas is notoriously known for its gambling and casino lifestyle with a total of 104 casinos holding countless machines and tables! The inside walkways that link the hotels and casinos make it incredibly easy to travel throughout the Las Vegas strip without heading outside, which is very welcomed in the heat of a summer's day, but also incredibly dangerous as with no windows to the outside world you have no clue on what time of day it is! Many people visit Las Vegas for all sorts of reasons, stag or hen dos, weddings, birthday celebrations or just a simple break but the majority of those who have been will tell you how incredible their experience was!
There are so many casinos in Vegas, but here are our top five for you to check out and why! But if online casinos are more your thing, check out: https://games.paddypower.com/c/roulette.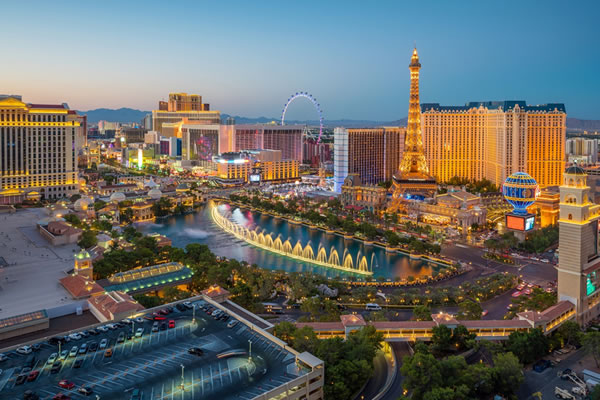 The Venetian
The Venetian Hotel and Casino resort is one of the largest on the Las Vegas Strip. The Venetian contains over 2.3 million square feet of meeting space, 1 million square feet of retail space, more than 30 restaurants with over 1,000 rooms to stay in. The interior decoration is beautiful and one of the most photographed in Vegas, with the open waterways to have a gondola ride on, you'll feel like you're really in Venice! The casino consists of a large Poker room, where world-famous Poker games take place as well as slots galore! There is so much to do in The Venetian, you could stay here for a week and not leave the building once!
Caesars Palace
One of the better-known casinos in Vegas, Caesars Palace is a famous landmark to visit for most tourists. The casino and hotel have been famously seen in many films including Dreamgirls and Iron Man, most recently The Hangover Part III where Phil abseils down the side of the building followed by clumsy Alan who nearly dies trying the same feat. With over 300,000 square feet and nearly 4,000 rooms, Caesars Palace is one of the largest and best-known landmarks on the Vegas strip. The casino itself features a huge 4,500 square foot 24-hour Poker room as well as a large number of slot machines and video poker machines. You'll find restaurants, live entertainment and even boxing matches being hosted in this venue, so it's definitely one to visit!
New York-New York
One of the most visually impacting buildings on the strip is the New York-New York hotel and casino. With architecture designed to emulate the east coast city in the west, you'll be able to spot this casino a mile off. With a lady liberty statue replica outside, as well as a rollercoaster going through the hotel, this resort is a huge attraction in itself! Inside you'll find incredible restaurants to eat in and even a residential Cirque du Soleil show called Zumanity. The main casino, named after Times Square is where you'll find special playing cards where the suit of 'hearts' has been replaced with 'apples', which resembles the nickname for New York, 'The Big Apple'. The total gaming space is 84,000 square feet here, filled with slots and tables and all sorts of games.
Bellagio
Most famous for its incredible water fountain display out front, the Bellagio attracts huge crowds around every half hour depending on what day and time of year it is, although you're almost guaranteed to witness the spectacular event if you hang around long enough! Its total gaming space is 116,000 square feet. Yet again you'll find something for everyone with art galleries, restaurants, entertainment and live shows! The casino at the Bellagio is most famous for its Poker room, commonly known as 'The Office' due to the high table limits. It is here you will find the 'Big Game' being played in Bobby's Room, named after Bobby Baldwin where the Poker pros can win pots far exceeding $1 million. The Bellagio has also partnered with the World Poker Tour to host several of their tournaments.
Mandalay Bay
The one-stop-shop to everything you need from a holiday resort. Mandalay Bay has the largest variety in attraction on the Las Vegas Strip; discover casinos, hotels, pools, spas, restaurants, a beach, events centre, live shows, conventions, shopping malls and even a Shark Reef aquarium! It has featured as a backdrop for many famous films including a couple of the Ocean's film series. The total gaming space is 135,000 square feet. In the casino, you can find many tables and slots as well as a race and sportsbook, where you can spend hours betting on different race and sporting events that are happening globally.
Of course, with 104 casinos in total, there are many different casinos to choose from, but these five are ones that you'd never have to leave. You can arrive at your resort and find enough things to experience for a week without getting bored! The ideal places to be for anyone who wants to experience Las Vegas in style!